Most boatmen and fishermen of today rely on fish finders for smooth fishing operations. One question these folks frequently find themselves having to answer is if one can use a fish finder to find crabs.
A fish finder can detect larger crabs, but it can be difficult to distinguish crabs from other objects across the bottom. The process is similar to finding fish, as the device uses sonar technology to send out sound waves and create a picture of what's beneath the surface. However, not all fish finders are created equal, and some models may be better suited for finding crabs than others.
In this article, we will briefly discuss how fish finders work and whether you can use them to find crabs.
Note: most links in this article are Amazon.com Affiliate links, see Affiliate Disclosure, thank you.
Can You Use a Fish Finder for Crab Catching?
Categorically speaking, you can use a fish finder to find crabs, but this can be difficult. Crabs across the bottom might show as bumps and be hard to tell apart from rocks, logs, or other objects. To get a clear picture of the bottom, you need a high-quality, high-definition fish finder.
Another thing to note is larger species of crabs are easier to detect with a fish finder than small crabs. We consider a 6-inch Dungeness crab to be medium size, and this is the average legal size. Typically, we fish for Dungeness crabs.
However, it can help you to reduce the guesswork when you go crabbing. There are many types and models of this device, and the extent to which it would help you when you set out to catch crabs depends on the features.
We will give you tips on what to look out for when you go shopping for a fish finder, but before we do so, let's explain how it works.
5 Tips for Using a Fishfinder for Crabbing
If you're serious about using a fishfinder for catching crabs, then you need to invest in a good fishfinder. Here are 5 tips for using a fishfinder for crabbing:
1. Adjust the sensitivity. The sensitivity of your fishfinder will need to be adjusted in order to pick up small objects like crabs. Experiment with different settings until you find the right one for your needs.
2. Use the bottom lock function. Many fishfinders have a bottom lock function, which can be useful for crabbing. This function will keep the sonar beam focused on the bottom of the water, making it easier to spot crabs.
3. Avoid deep water. Crabs tend to stay in shallower water, so you'll have more success if you focus your efforts in these areas. Shallow water tends to move slower and is easier to map with your depth finder.
4. Use the fish finder to map the bottom for travel lanes. Crabs more in and out of bays with the tide. Many average size crabs will follow the edges of the channels where there is a good average current speed, enough to help them move in with the salt water but allow them to move freely. Placing your crab pots in these locations will help.
5. Look for areas of high concentration. When using a fishfinder, look for areas with a high concentration of small objects. This is likely to be an area where crabs congregate, but be careful not to confuse rocks for crabs.
Fishfinders use sonar technology to detect underwater objects and can be a valuable tool for finding concentrations of crabs. However, it is more important to use your electronics to find good locations to place your traps in anticipation of crabs arriving with the incoming tide.
How Does a Fish Finder Work?
Basically, a fish finder works by sending sound waves into the water. The sound waves reflect when it hits any object (rocks or other objects on the sea bed or a school of fish). This reflection lets the user know the shape, size, and makeup of whatever is at the sea or river bed.
This device takes into consideration the strength and frequency of the sound waves. One can then use it to gauge how deep the object is in the water. 
The above is a simplistic explanation of how a fish finder works. The signals transmitted when the sound waves hit an object can be interpreted in different ways. Each model comes with a transducer and a screen which make up the main unit.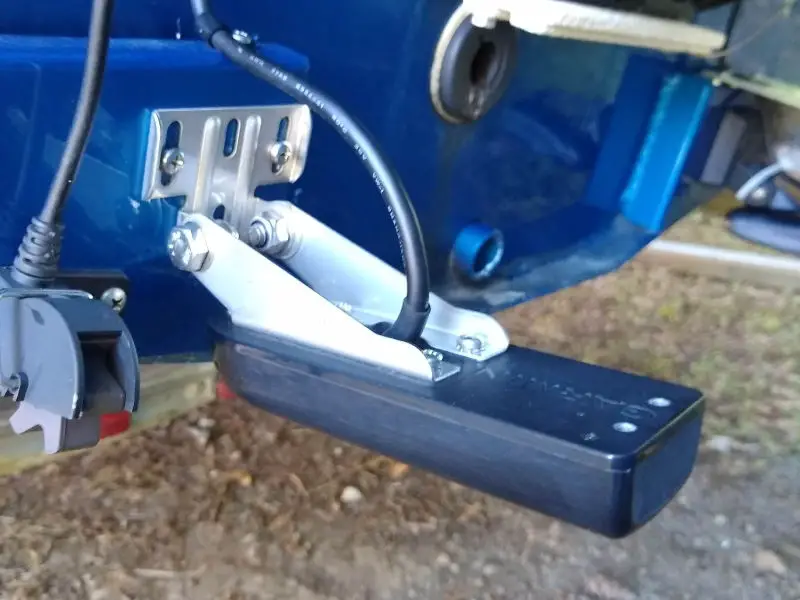 The transducer is installed on the boat's bottom, which is the part of the fish finder that sends the sound waves to the sea bed. The objects on the sea bed will be reflected, and part of this reflection will hit the bottom of the ship, where the transducer will capture it. The transducer then sends its readings to the monitor, which will help the user interpret the signals/reflections.
Different Types of Fish Finders
There are a variety of fish finders in the market, and they include:
Side Imaging fish finders
2D sonar
Live sonar
Down Imaging Fish Finders
360 Imaging Sonar
Chartplotter Fish Finder and more.
3D Fish Finder
Castable Fish Finder
Ice Fishing Flasher
This nomenclature actually refers to the type of technology that the device employs. Some devices use one or more of the above. They are all unique in their own ways because they utilize different methods of penetrating the water surface to display where the fish are.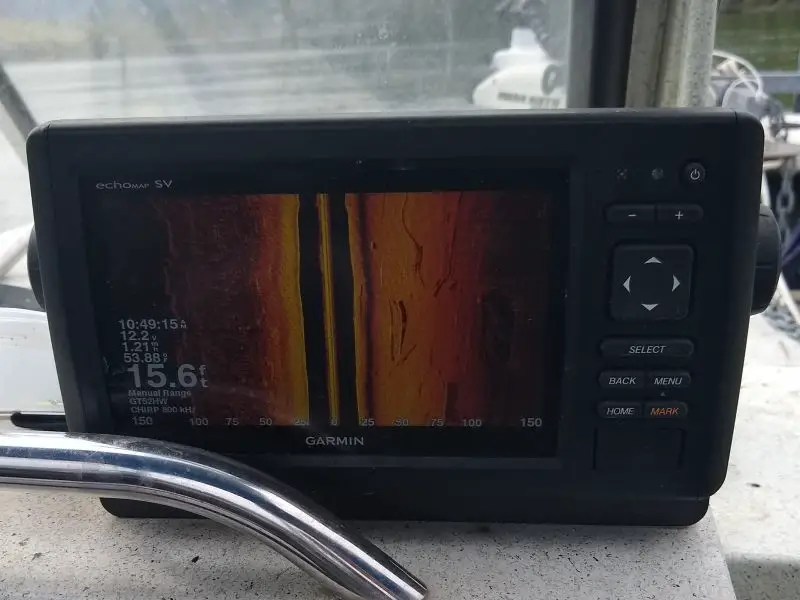 Two Things To Look Out for When Shopping for a Fish Finder
The following are two things to look out for, especially if you want a fish finder that can help you catch crabs:
Ease of Use
Even if you're a professional, you'll want a device that is relatively easy to use; you don't want something that would require a steep learning curve. Sticking with a top brand should help as the basic operation should be similar.
Your big brands like Garmin or Humminbird are definitely industry leaders but don't dismiss Lawrance. These top brands have a lot of valuable content to help you with step-by-step operating instructions.
The flagship models have similar adjustments, such as sensitivity and screen layouts. Typically, within the first few minutes of operation, you can have a basic setup and be using your fishfinder.
Also, before you purchase your unit, make sure you search online video platforms for setup information from seasoned pros. In most cases, you can figure out the basics from the user's manual, but tournament fishers know all the tips and tricks.
Accuracy in Reading Depths and Structure of the Water
There is one main reason why crabs don't show on fish finders:
They stay close to the bottom
However, if you have a device that can accurately read the bottom structure of water, you can deduce whether there could be crabs in the water so you can place a crab pot there.
That said, if you want to use your fish finder when you go crabbing, look for one that accurately reads bottom structure or, better yet, a live view of the bottom. Most products that have ClearVu scanning sonar or SideVu scanning would work well for you. This is because they have a high-frequency sonar that gives you almost photographic images.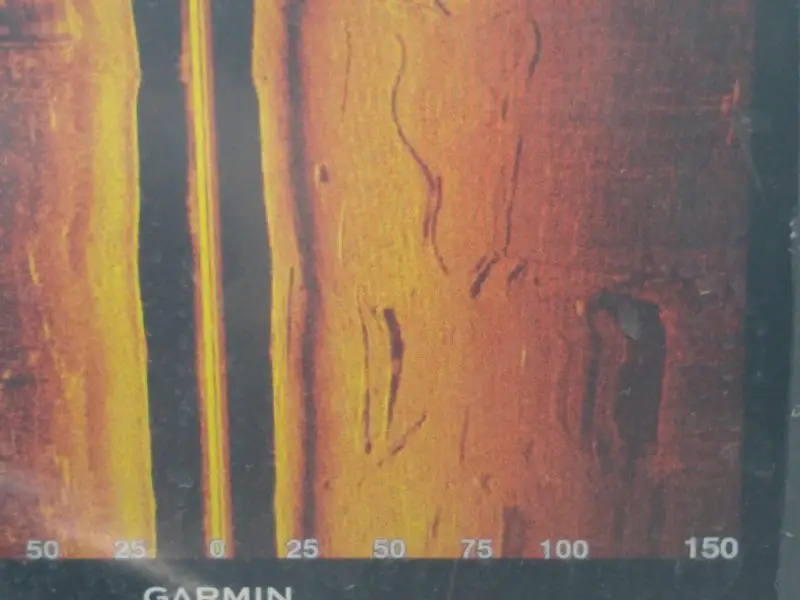 These images have detailed views of the structure, object, and school of fish. Typically, a view like the SideVu image above can show you where the most likely place to find crab would be and objects to avoid when placing your carb traps.
Actual Fishfinders
If you want to see actual crabs on the move, you are going to need a high-end real-time system like Mega Live, Live Scope, or Active Target. These systems are all similar, but each has its strengths and weaknesses. One point to note is that the Humminbird Mega360 provides an amazing view, but it is not a live view, so you will need to analyze the image a bit more than other sonar types.
For our pick to help find crabs, we like the Garmin LiveScope because of its overall image clarity, specifically the Garmin Echomap 73cv UHD and LiveScope System. There are other reasons to like Garmin, such as backward compatibility and top-of-the-line sonar. Our only downside for Garmin is that we can't connect it with a Minnkota electric trolling motor. If you want to go with Humminbird, a starter system would be a Helix 7 G4N and a Mega Live Imaging transducer.
Conclusion
In this article, we have explained how a fish finder helps to find crabs. However, a high-end fish finder will be required if you want to identify them and follow their movement across the bottom.
A typical fish finder will be better to map the water bottom and locate areas most like to catch crabs. After mapping the bottom, you will be able to place your crab pots in the best location, increasing your chance of a full limit.
On a final note, a budget fish finder will only be helpful in monitoring water depth and actual fish because they do not show detailed images of the bottom.
We believe that the information shared herein will help you get the best fish finder for you when you go shopping.