Most Electric trolling motors include a propeller, but what if you have the misfortune of running into a rock. You might want to upgrade as I did and would like some advice on what to look at. In this Minn Kota Trolling Motor Propeller Guide, you will find useful information and our top picks for your electric trolling motor.
Note: most links in this article are Amazon.com Affiliate links, see Affiliate Disclosure, thank you.
How Propellers Work
If I try to explain a propeller in the simplest way, I would compare it to a fan. The blades of a fan cut into the air, pushing it out the other side of the fan. A boat motor propeller works in the same way as a fan in theory.
The physics of water is a bit different than air, but simple mechanics are the same. Boat propellers have some unique design features that make them perform well in water converting the revolutions of the motor shart into thrust to move your boat.
We will talk more about propellers in general, such as a medium to a large outboard motor. Most of the medium size class of boat motors have three identical blades. Blades are measured in a few ways starting with pitch.
Blade pitch is the angle of the blade, and the number implies the non-slip distance a blade will travel in the water for one complete revolution. An example of this is a 17 pitch blade that will travel 17 inches forward for one complete revolution. Mercury 90 hp motors use 17's as standard equipment.
Blade diameter is another key property of a propeller. The larger your blade diameter, the more water you will move, or aka disturb. However, if your blade is to larger, your motor will not reach full RPMs, so getting a perfect balance is important.
For more about Prop size, there is an excellent article on the Marine Parts Express website.
There are some other properties like the propeller cup or cupping. The cup is a curve from the middle to the trailing edge of your propeller. This cup feature gives the prop a better punch or hole shot, by reducing slippage and ventilation during acceleration.
Finally, Rake is the degree a blade slants in relation to the hub, theoretically in relation to the prop shaft. The best way I can explain the benefit of rake is holding on to the water so you can trim your boat up or down for a smoother or faster ride.
Propellers can be made out of many materials. Most gas motor propellers are made from aluminum because of cost and versatility. Most electric trolling motor propellers are made of plastics or composite materials.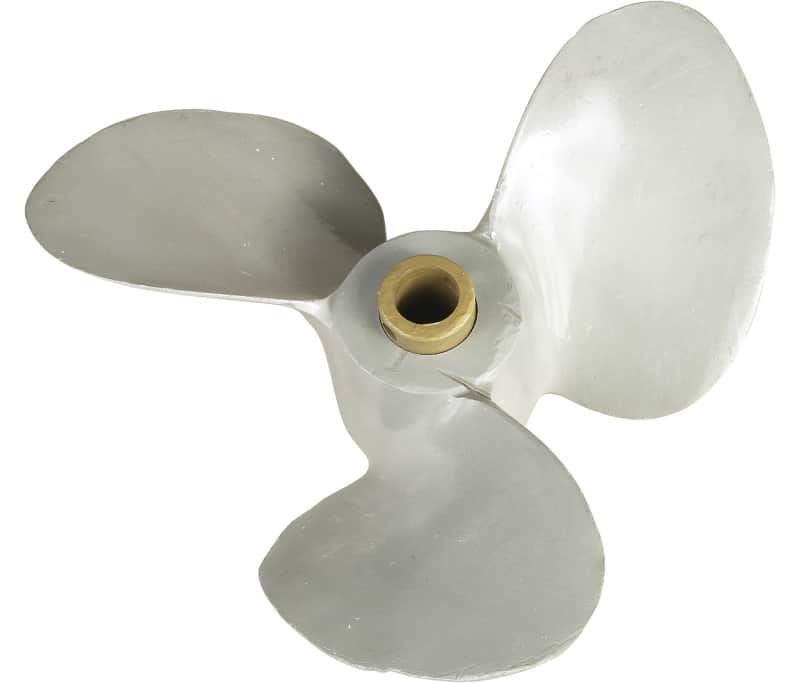 Trolling motor propellers
The basics physics for a trolling motor propeller are the same as a more substantial motor however, top speed and plaining your boat are not considerations.  It is still nice to have a prop that will provide quick response and energy efficiency (of fuel efficiency for gas motors).
The most significant difference for trolling motor propellers is the diameter related to the horsepower by percentage. Trolling motor propellers are larger by percentage than a higher horsepower main motor.
How to Choose a Minn Kota Trolling Motor Propeller
When choosing a Minn Kota trolling motor propeller, it can help first to determine your primary fishing type. I like to break it down into two fishing types trolling and holding. Not that there are no other methods to utilize your trolling motor while fishing, but these are the two main categories.
When you are using your motor to troll, it is very straightforward. You set your motor to a preferred speed, deploy your gear, and make small adjustments as you go. Your main concern will be consistent speed and efficient power consumption.
Bass fishermen almost always fish in a holding pattern. Put your boat in a spot, then cast in a pattern, move and repeat. For fishing a pattern, a quick and accurate response is essential. Narrowing down what you need out of your motor can help you choose the best propeller.
How to Install a Propeller
Before you start this project, be prepared with a towel to clean any obstructions from the housing that may have entered through use. This is essential to ensure a well-functioning propeller. Disconnect the electric trolling motor from all battery terminals. The tools you need to install a Minn Kota trolling motor propeller are vice grips or nose pliers.
Start by cleaning the propeller and its surrounding area. This will also help loosen the bolts, so taking it apart would become easier.
Turn the locking nut counterclockwise to remove it. Once that is unscrewed, remove the lock washer. It is located directly under the locking nut.
If you have purchased a new Minn Kota trolling motor propeller kit, replace the lock washer with the new one that came with the kit.
Push the drive pin on either side to make it slide out. When installing the new propeller, make sure the drive pin properly aligns with its base.
Once the drive pin is correctly lined up with the propeller's base, repeat the previous steps in reverse order. Make use of all the new parts like the lock washer and drive pin if you have purchased a Minn Kota trolling motor propeller replacement kit to change the old hardware.
If your propellor is not spinning check out our article Minn Kota Trolling Motor Prop Not Spinning | Top 3 Reasons Why
Product reviews
While purchasing a trolling motor propeller, you must pay attention to the shape and size of the propeller. Buying the right size and shape prop helps the engine perform the way you desire.
Some advantages of selecting the right prop for your boat include a reduction in engine strain and vibration, better speed, powerful acceleration, and fuel economy(aka battery life). If you are looking for the best propellers out there, we have listed some of the decent options available in the market down below:
Minn Kota propellers Weedless Wedge 2 Prop, 3 1865017
Minn Kota Weedless Wedge 2 Prop features a patented, unique design with flared blades and swept-back that the thrust weeds away to conserve battery power. It is the best propeller if you often sail through dense vegetation.
It is effective even at low speeds. The kit includes a prop pin, nut, and washer. This Minn Kota Trolling Motor Propellor is suited for motors with diameters of around 3-5/8 inches. The Weedwedge 2 prop is the stock model that is shipped with most Minn Kota motors.
Benefits:
Increased efficiency
Saves battery power
Quick reaction time
When using this prop I have noticed the reaction time is very quick. When comparing the prop, one test I performed was pointing the motor sideways and turning it to full speed. This prop won this test, jerking the boat and spinning around quickly.
Click here to see this Propeller on Amazon.com
---
Kipawa 80/01 – Weedless High-Performance Propeller for Minn Kota Motors
The Kipawa 80/1 is suitable for a wide range of trolling motors. This prop is constructed from fiberglass and nylon composite for maximum durability, quality, and strength. The Kipawa high-performance propeller is also weedless and can increase your boat's speed by 10 to 15%. Moreover, it can also save around 10% of your battery life. This is perfect if you are planning to spend the entire day out without having to worry about batteries and power.
Benefits:
99% weed-free
Increases the speed of a vessel by 10 to 15%
Improved Navigatibility
Lets you travel a more significant distance while utilizing less battery charge
I used this prop for a week straight while salmon fishing and noticed increased battery life during normal use. After reviewing the performance between the Kipawa and the stock prop I realized that the Kipawa was faster. Because the prop was faster I ran the motor on lower speed settings throughout the day.
Click here to see this Propeller on Amazon.com
Click here for our article comparing these two propellers Kipawa and Weedwedge2
---
Kipawa 853 – Weedless High-Performance Propeller
The Kipawa 853 can ensure a more convenient and enjoyable boating/fishing experience for boaters and anglers. Designed for a wide range of electric trolling motors, these propellers are suited for: small watercraft, buddy boats, canoes, Jon boats, and bass boats. It is one of the best replacement propellers available in the market today.
Also, this prop is for small motors so check the list to make sure it fits your motor.
Click here to see this Propeller on Amazon.com
---
U-BCOO Propellers Electric Outboard Motor
The U-BCOO Propeller is a multi-purpose electric trolling motor made with high-strength nylon that has it all. It is lightweight, compact, high-performance, high quality, and offers convenient installation. They come with a prop nut and pin. It is also corrosion resistance, so you do not have to worry about taking your boat to saltwater. U-BCOO Propellers are an ideal choice for fishing boats and water entertainment. The manufacturer claims this prop will perform more efficiently and has less vibration. We agreed with the vibration but need more testing to prove the efficiency
Do contact the sell VIA Amazon.com messaging to make sure it will fit your motor, this prop fits a Terrova 80lb for testing.
Click here to see this Propeller on Amazon.com
Conclusion
The propeller of a trolling motor significantly impacts the performance of a boat. Therefore, it is crucial to choose the right one. A suitable propeller should improve not only the speed and power of the board but also the fuel economy, reduced engine strain, and vibration.
The ones mentioned in this Minn Kota Trolling Motor Propeller guide are some of the best propellers available for Minn Kota motors in the market. When you think about it they are also budget-friendly so buy one and keep your stock propeller in case you meet up with a rock.
Frequently Asked Questions
Will a Watersnake prop fit Minn Kota?
The short answer is: it depends. These days' props are universal, which means you can change out the propeller on your motor with ease. However, they aren't always compatible. Some Watersnake props will therefore not fit a Minn Kota trolling motor. 
It's important to check before purchasing that the Watersnake prop will fit your Minn Kota. It's easy to do this; these days, most props will come with compatibility charts that you can use to check if it's suitable for your Minn Kota motor. 
These charts are usually on their product listings online. Alternatively, the review and question section of websites is a great place to check. The answer will vary depending on the motor you have and the size of the prop. 
Thankfully, most props are universal these days, so you should have no issue fitting a Watersnake prop to your Minn Kota, but be sure to check before parting with any money. 
How do you tell what thrust my Minn Kota is? 
A quick and easy way to tell what thrust your Minn Kota is is to consult your user manual. The manual that came with your trolling motor will have the thrust listed and provide you with the answer that you need. The thrust might also be listed on your Minn Kota motor. The voltage is usually listed and, in some cases, the thrust too! 
If you don't have the user manual or the thrust is not printed on the trolling motor, try searching for it online. If you know the make and model of the motor, search for it followed by thrust, and the answer will come up! You might even be able to download a user manual, too, that you can keep. 
If you don't know the make and model of your Minn Kota, type the serial number in, as this can help you find out the thrust. The serial number will either be in the user manual or printed on the motor, which you can search for online.