The right fish finder battery will keep your fish finder running throughout your entire fishing trip. But, of course, a statement like that comes with a serious caveat. After all, not all anglers are keen on only fishing the weekend away. Some prefer to go out into the lake for weeks on end.
So, when we say that the best fish finder battery will keep your fish finder running for the entire fishing trip, we mean "within reason." And that is one of the main reasons why choosing the right fish finder battery is absolutely important for your fishing trips.
Note: most links in this article are Amazon.com Affiliate links, see Affiliate Disclosure, thank you.
What is a Fish Finder Battery?
Every angler the world over has their own set of tips and tricks to catch fish. One of the most common tactics that even the most experienced anglers use is a fish finder. This is an apparatus that helps them find and catch fish. Moreover, the best fish finders give the anglers a clear picture of what's happening in the water underneath their boat.
This includes clear images of the topography below from the various aquatic structures, the depths of the waters around the boat, and, most importantly, hiding places used by the fish.
A fish finder battery is what operates this fish finder. What gives it its "juice," so to speak.
The most advanced fish finders have all sorts of bells and whistles, from GPS location to digital connectivity with your computer and even phone. To keep that kind of connectivity going, especially when you are way out there on the water where there may be limited or intermittent connectivity, the fish finder will use a lot of power. With an excellent fish finder battery to back it up, it will run out of juice long before you even begin to enjoy your fishing trip.
If you are looking for an unconventional battery for your fish finder, read our article "What Are Non-Conventional Batteries Options for Fish Finders?" This article covers small power sources such as drill batteries that would be great for a small boat or kayak. We also cover so "how to"
The Best Fish Finder Battery for Your Needs
Whether you are going fishing for just the afternoon or would love to be gone for the entire weekend, bringing a reliable fish finder battery with you is ideal. Here are some of the best choices available in the market today.
Of course, it also helps to know how much power a fish finder will use. A very standard unit is a Garmin 93sv which has a maximum draw of 20 watts or 1.66 amps at 12 volts with standard equipment.
A 60Ah battery could get around 18 hours of use without any issues. If you would like to bump that up for a camping trip, consider adding a small dashboard-size solar panel.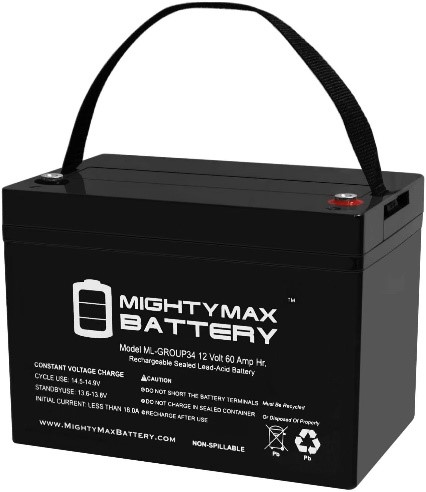 The Mighty Max Battery 12V 60Ah is an excellent fish finder battery that is rechargeable and maintenance-free.
This 12V battery comes ready for work straight out of the box. It's an SLA battery that is factory activated and requires absolutely no maintenance work meaning that you won't need to fiddle with any acid packs. Despite that fact, this battery offers the option of additional electrolytes to help prolong its standard shelf battery life.
Furthermore, it's a deep-cycle battery that can be mounted in pretty much any position you need it to stay. It's shock-resistant, which makes it ideal for those occasionally rough seas when you are out fishing. Finally, this deep-cycle battery offers excellent performance through both high and low temperatures alike.
Pros
Maintenance-free
Works straight out of the box
Additional electrolytes to prolong shelf life
Deep cycle battery
Shock resistant
Cons
Doesn't come with a wire harness or any mounting accessories
Check out the price on Amazon.com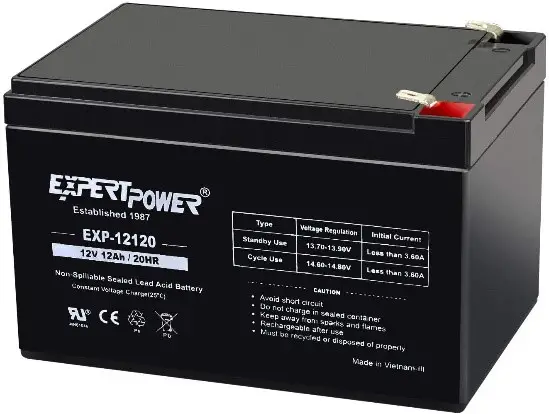 This ExpertPower 12 Volt 12 Ah Rechargeable Battery is one of the most reliable lead-acid batteries in the market today. It's a 12 volt, 12 Amp acid battery that offers you up to 20 hours of service featuring F2-style terminals.
What makes this 12V battery rather ideal for fish finders is the rugged build. The fish finder battery is encased in non-conductive ABS plastic that is highly impact-resistant and can withstand vibrations, heat, chemicals, and pretty much anything else you can throw at it when you are out fishing.
One of the most outstanding features is that it employs AGM Tech, which keeps the acid in the battery absorbed between its plates, making it immobile. It also has a regulated valve that is spill-proof means that this battery is safe for use and mounting in any position.
Pros
Rechargeable
Rugged casing that is highly impact resistant
Spill-proof valve
User-friendly design
F2 style terminals
Cons
Can only last for 20 hours without recharging
Check out the price on Amazon.com
3. ECI Power 12V 10Ah Lithium LiFePO4 Deep Cycle Rechargeable Battery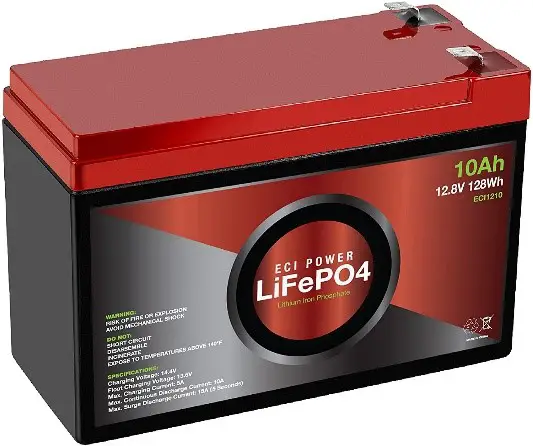 Have you been looking for a lithium battery that offers you more than 2000 cycles at an impressive 80% DOD and up to 5000 cycles at 50% DOD? In that case, you really should take a look at this ECI Power 12V 10Ah Lithium LiFePO4 Deep Cycle Rechargeable Battery. Designed and manufactured by a trusted brand, this battery uses expert technology to bring you wonderful performance at an incredibly reasonable price.
Furthermore, this lithium fish finder battery offers excellent protection thanks to the high-quality build. Featuring the built-in BMS (Battery Management System), this battery has a mechanism that protects it from overcharging, overloading, deep discharge, short-circuiting and overheating. It also protects itself from low self-discharge, which means you have a battery that can last up to a year with maintenance-free storage.
Pros
Affordable
Built-in Battery Management System
High quality
Trustworthy brand
Cons
Some people might find a maximum of 5000 cycles at 50% DOD a bit low
Check out the price on Amazon.com
Tips on How to Choose the Best Fish Finder Battery for You
The best fish finder battery is useful in more ways than just keeping your fish finders powered. With the right kind of setup, you can use this battery capacity to charge a host of gadgets and electronics when you are out fishing all weekend long. That's why choosing the right battery is quite important. Here are some tips that can help:
Battery Size
The size and the weight of the battery are things you must consider, especially if you enjoy using smaller boats and fishing vessels such as a kayak or canoe. In these smaller boats, every pound of weight added increases how much energy you will need to paddle and takes up more space that could have been used to haul your catch.
As such, finding lighter and smaller batteries is a good route to take. In this case, you might want to go for lithium-ion batteries. A kayak battery like this tends to be smaller, lighter, and works better than a sealed lead-acid battery. However, the biggest issue is that they also tend to be a little bit more expensive.
Battery Construction
When it comes to using batteries in a marine environment, there are only two main types that are ideal. Even though other types of batteries can and often do get the job done, because of how they are constructed – they aren't sealed and the fact that they tend not to handle the harsh environment that comes with large water bodies, they aren't exactly very high on the list.
Here are two of the main battery construction styles that you should keep in mind when shopping for batteries for your fish finders:
SLA (Sealed Lead Acid) Batteries – A lead acid battery is sealed quite well, making it leakproof. This also means a lead acid battery can work in almost any orientation. They are also often quite affordable. However, the biggest issue with lead-acid batteries is that they tend to be rather heavy.
Lithium Batteries – Probably the best kind of battery for fish finders. This is mostly because they tend to be quite light and much smaller than any other type of battery. Another thing that makes them stand out is that you can discharge them up to their full capacity (100%) without necessarily ruining the battery. The only issue here is that they tend to be a bit pricier than most other types of batteries.
Battery Pack Power
When it comes to battery pack power, the best approach is to go with one that is not only 12v, but that can also offer you the maximum amount of amps for the longest duration. For example, you will probably be gone for a few days, so you want a battery pack that can keep its charge for the duration of your fishing trip.
For those who love fishing and aren't afraid to follow the fish to where they are, using a fish finder is the best course of action. These fish finders need to remain powered if you keep fishing for as long as the fish and biting. These fish finder batteries can help you do that and more. All you need to do now is choose which one works for you and buy it, go out there and enjoy your fishing all weekend long.
For more batteries to choose from, we maintain a list of