Trolling motor batteries are not the same as car batteries and in most cases will need a special marine battery tester. While testing the voltage of a battery can be a good indication of your battery's health the true test of your battery is in amp-hour capacity. A marine load tester is going to give you the best idea of the overall condition of your battery.
Note: most links in this article are Amazon.com Affiliate links, see Affiliate Disclosure, thank you.
A Brief Introduction to Marine Battery Testers
A marine battery tester is a tester that is designed to test batteries for boats or other watercraft. In most cases for a test to qualify as "marine", it must have some level of water resistance.
When testing a battery, you can test the voltage with a battery meter. The testing voltage of your battery can give you a general idea of your battery's state of charge. After you have charged your battery and rested it for one hour, you should get a volt reading in the 12.9 volts range for a fully charged battery. This voltage may vary from manufacture to manufacture and from battery to battery, but no more than .5 volts on a 12 volt battery.
The best test for a battery's health is going to be a load test. With a load test, you should be able to get a reading that will give you a good idea of your battery's overall capacity.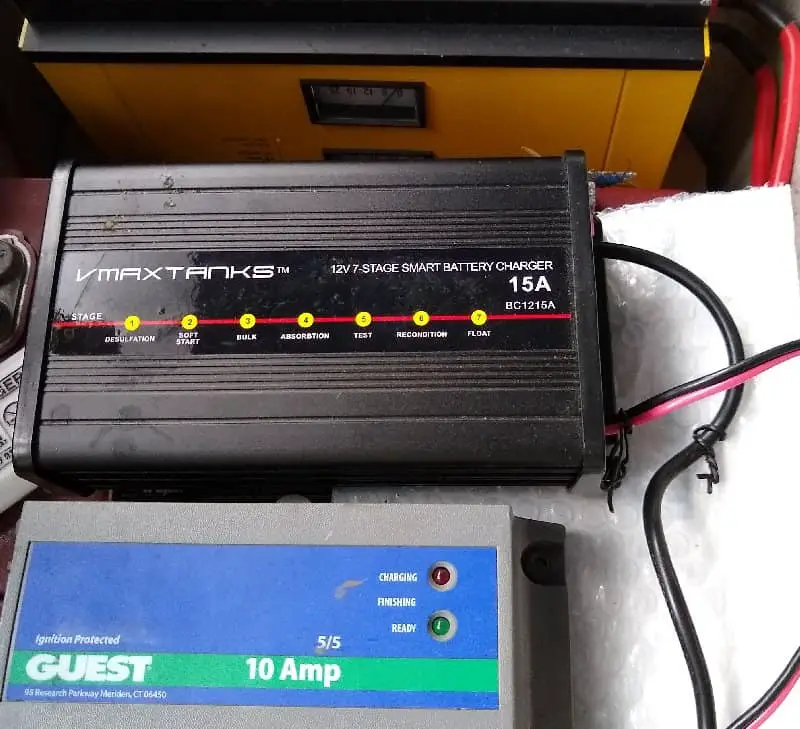 Note: a multi-stage smart charger can extend your battery's life. While onboard multi-bank battery chargers are great for day-to-day use, every 10 to 12 charges we recommend separating your battery bank after use and charging it with and charger like the eight-stage Vmax Tanks charger. The Vmax Tanks charger will run a desulfation cycle and check the health of your battery while recharging. If the Vmax Tanks charger detects any issues it will run a reconditioning cycle. Check it out on Amazon.com.
Most people should have a 3 bank onboard charger or a 4 bank onboard charger to keep their batteries well maintained. Maintaining your batteries with proper charging and other routine tasks can add years to your battery's life span.
Product Overview
Budget-friendly    
– MinnKota Digital Battery Meter
Best buy                
– LEICESTERCN Battery Tester, Digital 12V Battery Load Test, and Analyzer
Best load tester   
 – Schumacher BT-100 100 Amp Capacity Battery Load Tester
Best all-in-one      
– FOXWELL BT705 Automotive 100-2000 CCA Battery Load Tester, 12V or 24V
Hardwired option
– IZTOSS 12-24V Universal Digital Voltmeter Battery Status LED for Car Boat Truck.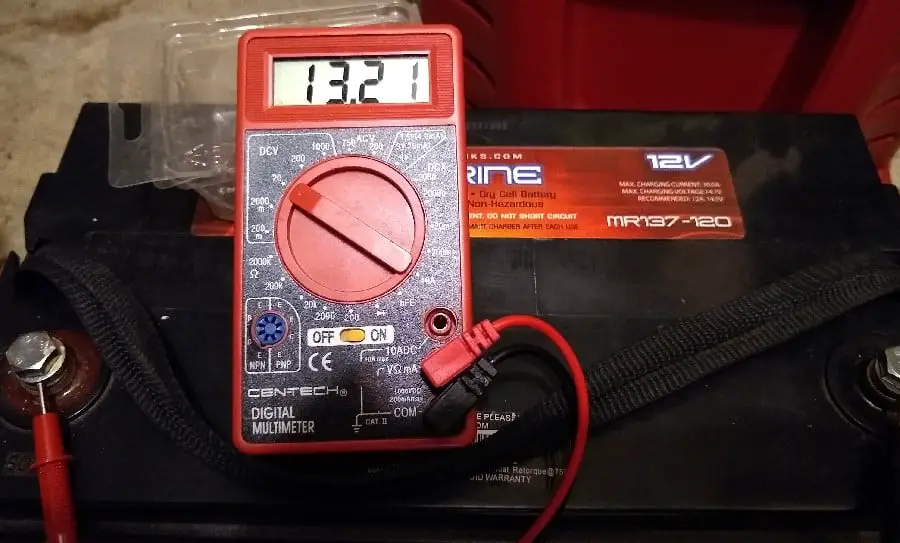 The most popular marine battery tester is the MinnKota tester. Minnkota's tester is a 12 volt single battery tester with a digital voltage display. Additionally, the MinnKota tester had four state-of-charge LEDs that will give you a general idea.
PROS:
The compact size of this tester makes it easy to carry or store on your boat
A clear black digital readout is easy to read
The LEDs are very plain to see and understand
Water-resistant
Low price
CONS:
Only a 12 volt range tester, many boat use 24 volts or 36 volts
Voltage tester only
Cannot be hardwired to your system
We think this tester is more for the small boat user with a single 12 volts trolling motor. However, we still feel the Pros outweigh the cons of purchasing the MinnKota Digital Battery tester and have as a backup in your glovebox.
---
The LEICESTERCN Battery Tester is a versatile tester with a variety of features. The LEICESTERCN tester has load test capability and is budget-friendly. This tester could be a one purchase item for all your boat and car needs in one.
PROS:
Convenient size makes it easy to store
Backlit LCD display that gives multiple readouts at the same time
Many setting options
Easy to use and understand controls, beginner-friendly
Heavy-duty battery clamps
Compatible with all standard battery types (except lithium)
Low price
CONS:
Only a 12 volt range tester, many boat use 24 volts or 36 volts
Not waterproof
Not a heavy-duty unit, handle with care
Cannot be hardwired to your system
We think this tester/load tester is a great buy for the casual user. If you are looking for one tester on a budget that will get lite use this is it. If you keep it on your boat store it in a zip bag. Also, open the item and test it upon arrival, which we recommend with all items.
---
Schumacher is an industry mainstay with years of good reputation to back their products up. This load tester is really a one-trick pony, but it is really good at that one trick. Additionally, the load test was targeted for car batteries but will perform equally well for a boat. Dual start and deep cycle AGM batteries will get good information when load tested with the Schumacher BT-100.  
PROS:
Heavy-duty construction
100a test for 12v or 50a test for 6v batteries
Easy to read and understand analog gauge
Heavy-duty battery clamps
Great value for the price
CONS:
Only a 12 volt or 6 volt range load tester, many boat use 24 volts or 36 volts
Load tester only
Not water resistant
The Schumacher BT-100 could possibly be the only battery load tester you ever buy. The level of construction of these units is better than the industry standard and backed by great customer service. I have the previous model of this tester in my toolbox going on fifteen years.
If you purchase the Schumacher BT-100 consider buying a clamp meter so you can check your amp draw and you won't regret it, see it on Amazon.com.
---
The Foxwell BT705 is a heavy-duty multi-battery tester that can do it all. This tester is durable and has been known to survive the accidental drop test. You will be able to put the Foxwell through a variety of tests and get a detailed idea of your battery status.
PROS:
Detailed battery analyzes
Easy to read detail LCD screen
Works on all battery types (flooded, AGM, Gel)
Included carrying case
Extra-long cable with heavy-duty battery clamps
Bluetooth printer option built-in
Can be purchased in combination with OBDII car scan tool
CONS:
Only a 12 volt single battery tester, read manufactures notes
Not water resistant
Higher price range
If it is not a question of where or not you will be in your garage but rather of which vehicle you will be working on in your garage, we say this is the meter for you. While cost is on the higher side, the Foxwell BT705 is a perfect addition to your diagnostic tools for any vehicle with a 12 volt battery.
Overview
We have covered our top options for marine battery testers and marine load testers. Not all of these items a marine-specific, however, they are still the best options for testing your trolling motor batteries.
Click here to read our review of Trolling Motor Batteries
Recommendation
We recommend that if you have a large trolling motor battery system you install a digital voltmeter on each battery bank. The benefits of a digital battery meter with a status indicator are amazing when it comes to battery life. If you turn your batteries off or switch battery banks before they go below 50% most manufacturers say you can increase your battery life by double.
Our choice for a battery meter is the budget-friendly IZTOSS 12-24V Universal Digital Voltmeter Battery Status LED. This meter is easy to install, all voltage, and budget-friendly. You will be happy you bought this meter and your wallet will thank you.
Additional Items
When testing and maintaining your batteries we recommend a few items that will help you out.
KAIWEETS Digital Clamp Meter AC/DC, this meter has been an all-around workhorse. I have used this meter for everything including my boat, truck, house, and computer. This meter makes a great addition to a heavy-duty load tester.
 CRC Technician Grade Di-Electric Grease is great to prevent corrosion on all your connections.
CRC 05023 Battery Cleaner with Acid Indicator is a great cleaner for your battery, wires, and connections.
Schumacher BAF-BI Terminal Cleaning Brush is the only way I clean standard battery terminals for boat or car batteries.
E-Z Red SP101 Battery Hydrometer is an easy-to-use acid tester for standard flooded batteries.