Two critical components for serious fishers are electric trolling motors and transducers. You can connect the two essential devices with a trolling motor transducer mount. Some trolling motors have transducers built-in, so why would you want to do that.
Most built-in transducers are the standard models, and if your high-end features mounting a high-end transducer to your motor is the only way to go. In this article, we will start by explaining what a transducer is and how it works.
Note: most links in this article are Amazon.com Affiliate links, see Affiliate Disclosure, thank you.
What Is a Transducer?
A transducer is an electrical device that converts a particular form of energy into another. In this case, the transducer converts electrical pulses into sound waves to detect solid objects. When the sound wave hits an object, the sound wave returns to the transducer where it is converted back to electrical pulses.
A fish finder generates and interprets the returning pulses to generate an underwater view of fish, objects, and the bottom. Some transducers have more advanced sonar features and temperature sensors.
The sonar (pulse waves) can have different properties, such as frequency and power. Typical frequencies are 83, 200, 455, and 800 kHz with power around 600 watts. Commercial and offshore recreational anglers tend to use larger units with a higher power, like 1 kW or 2 kW.
Pulse waves can be wide or narrow. Usually, narrow beams have a higher definition. Some transducers have side imagine that will map the bottom of the lake or river you are covering.
How to Mount a Transducer on a Trolling Motor
Trolling motors can be fitted either at the bow, stern, or hull. On most electric trolling motors, you will locate the transducer directly to the very bottom of your motor housing as close to the center as possible. Proceed to secure the transducer to the motor using a stainless-steel hose clamp.
Make sure that the transducer is pointing down without tilting. The next step is to route the transducer cable around the trolling motor housing and secure it to the bottom end of the trolling motor shaft using a nylon wire tie. These ties should be attached every four to six inches.
If you're using a bow mount trolling motor, ensure you allow adequate slack in the cable to enable depth adjustment and not interfere with the stow and deploy mechanism. However, if you're using a transom mount motor, no slack is necessary.
It would be best if you stopped clamping the cable when it gets to the top of the shaft. You can finally attach the transducer cable to the fish finder.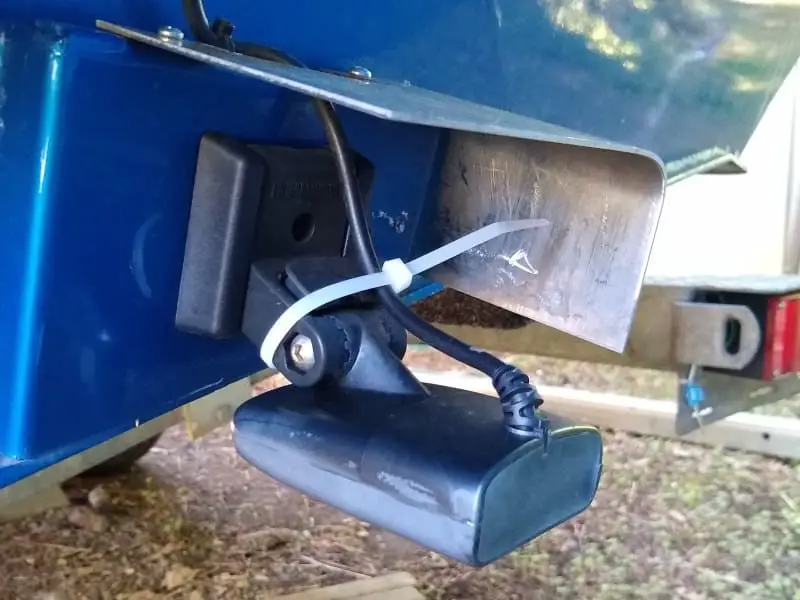 What Angle Should You Mount Your Transducer?
If you want more accurate readings, your transducer should be level, pointing straight down. It should be level with the bottom of the boat or just slightly below the bottom level.
Some people prefer to position transducers such that they shoot in front of the vessel to see the activities ahead. While this is theoretically sound, this front positioning doesn't allow you any visuals at the bottom of the boat.
Many anglers like to have the view slightly behind the boat so they can monitor their fishing gear and see fish biting their gear in real-time. It is still not practical to mount your transducer in any position other than level because it is designed to cut through the water in a level position. 
Can you mount a transducer backward?
Yes, you can; however, some transducers are shaped in a way to cut through the water, and mounting them backward can damage or break them off entirely at speed. The direction in which your transducer faces doesn't matter for sonar performance.
As long as the transducer is mounted horizontally, there's nothing to worry about. Nonetheless, you should ensure that you read all the installation instructions before embarking on installation. The hull type of your boat will determine where you mount the transducer.
Below you'll find tips you can follow depending on the different types of boats. 
In the case of twin-drive boats, you should mount the transducer in between the two drives.
With pontoon boats, you should mount the transducer on the bottom of the bracket on the back of a pontoon tube. The transducer should be parallel to the water, not the boat. You should also ensure that the transducer is mounted away from any electrical interference.
For sailboats, you should place the transducer on the aft. Close to the centerline of the boat as possible without interfering with the rudder. 
How to Run Transducer Cables on a Trolling Motor
Once you have mounted the puck transducer, the next step is running the cables. Routing cables is especially tricky for bow mount motors since the wires can easily get pulled or cut during the operation. You will need to route the wires up the motor shaft, down the motor bracket, and direct them towards the back of the depth finder. If your trolling motor is foot-controlled, then you'll have a hard time running your cables.
The ideal situation is to have minimal motor movement to keep the cables from being pulled or cut. You can choose to route the power and transducer cables in three ways: on the motor shaft, along the steering cable, or along the swingarm. You should ensure to keep your transducer cables separate from any other wiring to avoid any interference. 
Pros and Cons of Mounting a Transducer on Your Trolling Motor
Choosing to mount your transducer onto the trolling motor has its advantages. It is not only easy to install, but it is also easy to store. You will also receive sonar images from the bow, right below where you are fishing rather than continually looking behind at the transom.
However, the disadvantage of this type of mount is that it hangs so low in the water that if you're not attentive, it is likely to be hit by submerged objects. Another disadvantage is that you won't be able to get any readings when the trolling motor is out of water.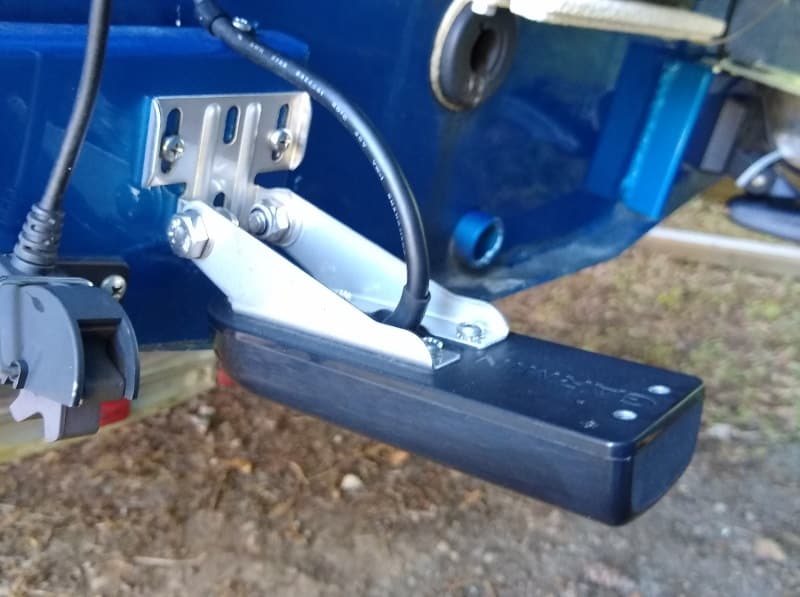 Does Down Imaging Work on Trolling Motors?
Down imaging (DI) works on trolling motors by allowing you to see underneath the boat. Most professional anglers prefer to have both down imaging and side imaging on their water vessels. When fishing in deep waters, you can use the DI alongside a standard sonar.
The DI will give you a broader yet more detailed scan of what's going on underneath, while the sonar will provide a narrower view. Although the DI works at slow speeds, it will show you the fish in the brush and your bait when fishing vertically. 
Finding the Perfect Transducer Mount for Your Boat
To find a compatible transducer mount, you will first need an accurate checklist. First on your list should be the brand and specifications of your transducer. Next should be where you want to mount it, which, in turn, depends on the activities you'll undertake with your boat.
Another vital factor to consider is whether you'll be sailing in fresh waters or saltwater. Here is a list of the best quality options you should consider:
features high quality and allows you to mount the transducer on both bow and transom trolling motors. It fits motors of varying sizes, such as 3-1/4 inches, 3-5/8 inches, and 4-1/2 inches. It also works well with transducers from other major manufacturers. 
See customer reviews on Amazon.com
---
is made from marine-grade aluminum and coated with black powder. It allows you to mount the transducer on transom trolling motors. This bracket is also compatible with transom transducers from Lowrance, Eagle, Minn Kota, Humminbird, and other major manufacturing companies. 
See customer reviews on Amazon.com
---
features a reliable transducer mount that is compatible with trolling motors from other manufacturers such as Minn Kota, Fortrex, Maxxum, among others. It also works well with trolling motors that require transducers mounted in the motors' front head, such as those from Minn Kota and Motorguide. 
See customer reviews on Amazon.com
Are there other ways to mount a transducer?
In case you're wondering whether there are any options for mounting a transducer without attaching it to a trolling motor, the answer is yes. With Fishing Specialties bow transducer mounting assembly, you can mount a transducer directly to your boat.
It is easy to use and can be quickly mounted and dismounted on the bow of the boat. This mounting assembly has a large clamp with an opening of 2-3/4 inches and measures 32 inches in length. It is also adaptable with other brands like Eagle, Humminbird, and Lowrance.
Let's not forget that the bow-mount assembly will enable you to steer your boat accurately, especially in narrow channels. 
Conclusion
The position of your trolling motor transducer mount will depend on your trolling motor, the size of your boat, placement options, and of course, your budget limitations. No matter the size of your boat and the type of your trolling motor, you'll always be able to find a transducer mount that works for you.
You can always consult with vendors and other boat owners to determine what will work the best for your setup.