In-line fuses protect your trolling motor from short-circuiting or overloading from excess electricity. For many boaters, they're a non-negotiable feature; they need their equipment protected. There are many in-line fuses to choose from, but only a handful are worth trusting your gear with.
The best in-line fuse for a 24-volt trolling motor is the WindyNation ANL Fuse Holder + ANL Fuse. We prefer this type because it is easy to install, inspect the fuse, and quickly change a fuse. Additionally, you can connect multiple size wires (up to 2/0) using a 5/16 wire terminal, and the fuse holder supports up to 300-amp fuses.
In this article, we'll also cover a list of the best in-line fuses for your 24-volt trolling motor, what you need to look for, and general information about using in-line fuses. Enjoy!
Note: most links in this article are Amazon.com Affiliate links, see Affiliate Disclosure, thank you.
Overview of In-Line Fuses for 24-Volt Trolling Motor
An in-line fuse is a fuse in the circuit between a battery and a device. If you're using a fuse for a trolling motor, it's best to keep the fuse as close to the power source (the 24V battery bank) as possible.
You can use many fuses for a 24-volt trolling motor, including a bladed model, an ANL setup, and an AGU design. All of them have pros and cons, including ease of access, security, simple installation, durability, and more. Review our favorite products for inspiration.
What Size Should an In-Line Fuse Be for a 24-Volt Trolling Motor?
Choosing the correct amperage is crucial for your fuse to function properly and prevent an electrical fire in your boat. If the fuse is too small, it'll cause circuit issues and randomly trip. If it's too big, it won't trip when there's a power surge, making it virtually useless. According to DC Trolling Motor, a 24-volt trolling motor typically requires a 60-amp fuse.
When looking for a fuse and fuse holder for your setup, make sure they offer a 60-amp setup. Inspect your power source (the 24V battery, in this case) and the device (the motor) to determine which amperage you use.
Typically to determine your required fuse size, your need to consider the maximum amp draw of your motor and the maximum amp capacity of your wiring. If your wiring capacity is lower than your motor's maximum amp draw, then you should upsize your wire. Bluesea systems have a wire size calculator at this link.
How Do You Install an In-Line Fuse?
Installing an in-line fuse is much easier than you might think. Below, you'll find the step-by-step process:
Disconnect the wires from the battery.
Install fuse holder as close to your battery as possible and secure.
Connect the positive wire from the trolling motor to one side of the fuse holder.
Connect the wire from the battery's positive terminal to the fuse holder.
Insert fuse and tighten all connectors and covers.
Give them a light tug to ensure they're secure.
Reconnect wires to the battery
These instructions are basic for most in-line fuse holders, but each has its unique way of connecting wires. You might require adding ring terminals, heavy-duty butt connectors, or solder and heat shrink for quality connections that will last.
We have more detailed instructions on our website. If you would like to see our easy-to-read schematic, use this link.
Why Are In-Line Fuses Necessary for 24V Batteries?
There are a few reasons for a fuse, but the most important reason is to guard against fire in your boat. The proper size fuse will prevent your wires from overheating or shut down the power from your battery in case a wire is damaged.
Additionally, without a fuse, you'll risk an electrical surge. While it's unlikely, it's always important to protect your investment from these issues. If the power source overloads from the motor's demand, it'll short the battery or cause it to overheat. In-line fuses are designed to trip if the amperage gets too high. Instead of shorting the battery, it triggers the fuse, shutting everything off.
Why We Prefer in-line fuses over circuit breakers for our electric trolling motor
In-line fuses are a more affordable and durable option than circuit breakers for use with an electric trolling motor. They are easy to tell when they are bad – usually, the wire inside the fuse will be burned or melted in the area of the fuse.
In-line fuses are also cheap to replace. Circuit breakers, on the other hand, can be more expensive to replace, and they are not as easy to tell when they are bad.
A circuit breaker may trip for several reasons, including a surge in voltage or excessive current draw. Most fuses have a small delay before they trip, allowing them to handle startup surges better than circuit breakers.
Finally, because most circuit breaks work on a bimetal technology, after a breaker has tripped or even been in service for many uses, the metal will warp. The wrapped metal can cause the breaker to trip at lower amperage until the breaker is almost useless.
For these reasons, we recommend using fuses over circuit breakers for your 24-volt electric trolling motor system, or for that matter, 12-volt and 36-volt trolling motor systems.
Which Fuse Should You Choose?
You've likely seen the three best fuse types (check out our best fuses of each type below). If you're having trouble choosing which one is best for your setup, consider the following tips:
Bladed fuses are very durable, best for effortless removal and installation but are challenging to inspect.
ANL fuses work to protect the current with a plate and have a start load delay, but the holder can be fragile.
AGU fuses are great for connecting without a terminal and showing what's inside; however, some models contain spring or pressure-fitting metal tabs that should be inspected seasonally.
Each fuse style has pros and cons, so let's dive into the list in the next section.
If you like videos I have posted a short video explaining the fuses
and my choices at the bottom of this page.
Product Overview
Finding the best in-line fuses can be challenging since there are countless options. However, we've narrowed the list to three of the top choices available. Review each of them to see which suits your setup, and enjoy the safety that comes along with it!
Here are our top three choices:
Best Overall: WindyNation ANL Fuse Holder + ANL Fuse
Best Budget-Friendly Option: Bussmann Maxi Blade Fuse
Best for Easy Installations: OIIKI in-line AGU Fuse Holder
WindyNation is one of the biggest and most trusted brands in the solar power industry, which is why it's no surprise they offer high-end fuses. Whether you're looking for a fuse holder or a combo kit, they have everything you're looking for. Their customer service ensures you'll always have peace of mind.
Pros
Includes two 60-amp fuses protect your 24V setup from power surges
5/16 terminals wire connections with washer
The enclosed casing prevents electrical shocks
Has holes to screw it into a wooden board
Easy fuse removal
Easy visual fuse inspection
Affordable price
Cons
The terminals are exposed underneath, so you need to cover them with something
The holder can be fragile, so install in a safe location
The WindyNation ANL Fuse comes with a holder that protects your wiring from getting damaged. Customers are satisfied with the security holes that fasten the fuse holder to wooden boards, preventing it from moving around. While the unique design might be challenging, nothing beats the peace of mind provided by four layers of protection. For information on ANL fuses, check out the datasheet on the Eaton electric website.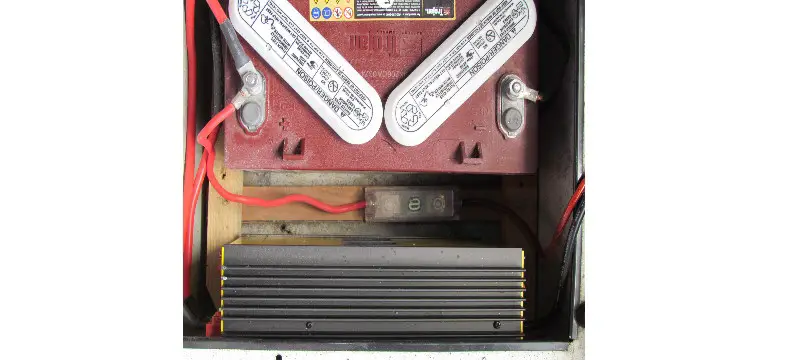 Editors note: This is the type of fuse I have in my system, and I am delighted with it. When I installed my system in 2012, I oversized my wires and went up one size in fuse amps and have never had an issue. I inspect the wiring system once a year and never had to replace this fuse holder.
Check out the price on Amazon.com
---
Blade fuses are incredibly easy to install, so, understandably, many people flock to the Bussmann Maxi Blade Fuse. It's suitable for almost any 24-volt setup up to 60 amps, much like the previous fuse. You'll need a fuse holder, which is why we recommend the Bussmann HHX In-Line Fuse Holder.
Pros
Durable
It uses a simple plug-and-play design
These fuses are cheaper than a cup of coffee
The ultra-lightweight design only weighs 0.4 ounces
The bladed design is proven reliable
Replacing and inspecting the fuse takes less than ten seconds
Cons
You'll need to buy the fuse holder separately (see the previous recommendation)
The holder has 6 gauge wire that can't be removed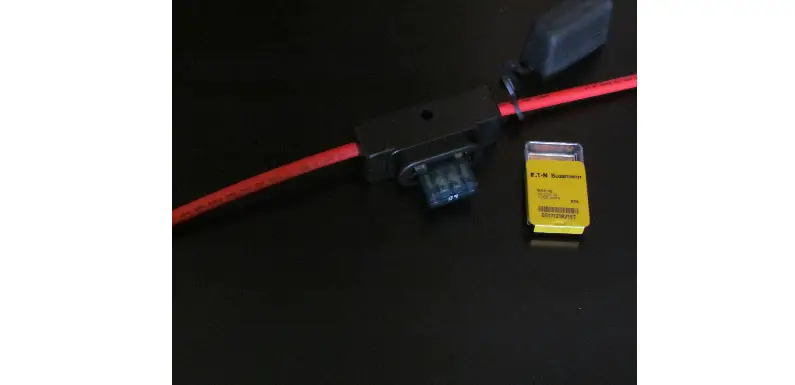 When considering this type of fuse, you must purchase the fuse holder along with it. The fact that this fuse holder has 6 gauge wires limits its current-carrying ability. However, this is an excellent option for simple setups with short cables. Additionally, this is a very durable in-line fuse holder and fuse. If you solder your connections and cover with heat shrink on your motor, positive wire mounting may not be required.
Check out the price on Amazon.com
---
If you're looking for a straightforward design that doesn't take much time to install, look no further. OIIKI might not be the first brand that comes to mind, but its fuses and holders are more than adequate. The installation process only takes a few minutes, and the fuse holder has holes to secure it to wood, metal, plastic, and more.
Pros
Secure it to almost any surface to prevent wiggling
Includes two 60-amp AGU fuses
See-through
Uses gold-plated cases to conduct electricity
Water-resistant with o-rings included
Use it with 4-8 gauge wires
Cons
At 3.2 inches, it's a bit bulkier than other options
Requires a hex wrench to secure wires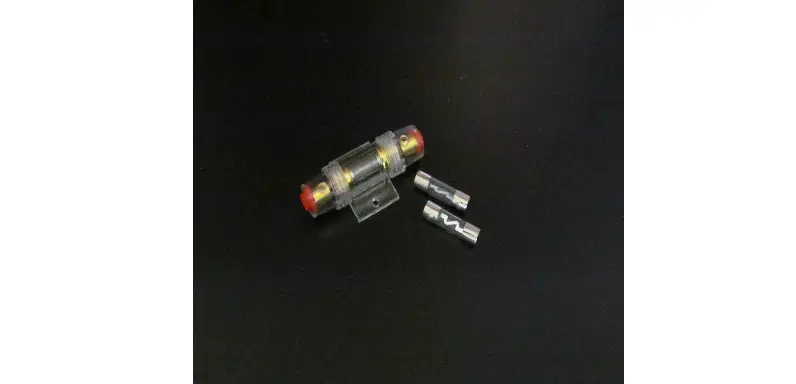 This affordable fuse and fuse holder combo is ideal for multiple wire gauges, amperages, and more. Customers enjoy the simplified design that's quick and easy to install, not to mention the fact that it's see-through.
We recommend this as one of the simples retrofits if you have a compatible wire gauge. Find a location along your current wire, run as close to your battery as possible and mount the fuse holder. Hold your wire directly next to the fuse holder and cut your wire approximately in the middle relative to the fuse holder. Strip both ends of the wire and assemble the fuse holder.
Check out the price on Amazon.com
---
If you have a boat with no locations to attach your fuse holder but are concerned about damage, a terminal mount fuse block might be right for you. BlueSea Systems is one of the largest manufactures of electrical items for boats. Don't forget that the terminal mount and the fuses are sold separately.
Pros
Strong metal mounting block
Multiple fuse sizes, up to 300 amps
Weatherproof for harsh environments
Insulating cap included
Compact size
Cons
You'll need to buy the fuse and the terminal mount separately
Not saltwater rated
The Blue Sea Systems Terminal Mount Fuse Blocks is a newer fuse mounting system and has not been widely adopted by recreational boaters. However, we think this system could become a complete system protector because of the compact design and high amp capacity.
You can find a 60 amp fuse with this link to Amazon.com. The terminal block is also available in a two-fuse design for more flexibility.
Check out the price on Amazon.com
Conclusion
Now that you know which in-line fuses you should use for a 24-volt trolling motor, you can protect your boat and your electrical equipment while on the water. Not only are you saving your investment, but you're also keeping yourself safe from electrical issues.
Your in-line fuse should be securely tightened, suited for the proper amperage, and placed on the correct line. It should be close to the battery to protect from shorts and prevent power surges.