A trolling motor coupled with larger batteries can greatly enhance your day out fishing. A trolling motor wire extension kit comes in handy when setting up your system because even weight distribution is such a big factor in handling especially in smaller boats like Jon boats, kayaks, etc. So, larger batteries have their advantages but often result in uneven weight distribution.
Imagine a situation where you have a trolling motor, a heavy battery, and you – all placed at the back of a small boat. Now, unless you are into wheelies and stunts, you'd definitely want to adjust the weight.
With the help of these extension kits, you can place the battery anywhere in your boat and adjust the weight accordingly. A good trolling motor wire extension kit will have a huge effect on the overall performance of your trolling motor.
On the other hand, incompatibility, cheap material, and improper installation can cause some serious damage to the trolling motor. So, you must choose your trolling motor wire extension kit wisely. 
To help you in this regard, we have carefully devised a list (in no particular order) of the best trolling motor wire extension kits. These kits in our list are manufactured by industry leaders and have been tried, tested, and recommended by professionals.
Without any further ado, let us get down to the list and discover your best trolling motor wire extension kit…
Note: most links in this article are Amazon.com Affiliate links, see Affiliate Disclosure, thank you.
The first item on our list is a basic extension kit is by Newport Vessels, a major manufacturer and seller of aft (transom) mount trolling motors. Inside the kit, you will find the electric tape, connecting hardware, and 5 feet black and red cables.
With this kit, you can seamlessly increase the length of the wires with no loss of motor performance – thanks to the high-quality connectors and 8-gauge extension wires. The black and red wires in this kit are Marine Grade, which means they are made from pure copper and for protection against corrosion, are coated with tin.
When using this kit, you will need to purchase a breaker (or fuse), and we recommend something to retain the wires like PVC cable clamps.
Click here to see this item on Amazon.com
This extension kit offers great value for money. This kit is manufactured by TRAC and sold by Sea-Dog (among others).
Included with the Sea-Dog kit is 30 feet of 8-gauge wire encased in a PVC wire loom, all the terminal connectors, plugs, plug retainer, fasteners, cross-over wires (for 24- or 36-volt systems), and a breaker. The wires in this kit are made from industry-grade tin-coated copper wire, providing marine corrosion resistance.  
The breaker included with this kit is rated at 60 amps. We have no details about the performance of this breaker and recommend one of our tested breakers listed in the last section of this article.
Click here to see this item on Amazon.com
Click here to read our article All You Need to Know About Circuit Breakers for Your Electric Trolling Motor
SEAMAX extension kit is one of the best trolling motor wire extension kits available in the market today. This kit is ideal when you want to extend the distance between the trolling motor and the battery when using a standard terminal-type battery. The SEAMAX extension kit includes standard battery terminal clamp connectors.
The SEAMAX extension is available in 10 feet and 16 feet variants. Easy to identify red and black copper wires are easy to hook up without confusion. Our favorite part of this extension is the heavy-duty snap-in power connector, which connects and releases with ease.
We have an issue with the rating and length, 80 amps far exceed the continuous load rating for an 8-gauge wire of this length. Please refer back to your owner's manual before you purchase this item and don't forget to buy a breaker or fuse to complete your system.
Click here to see this item on Amazon.com
Bonus Item
If you plan on wiring a 24-volt system, this kit might take position one but because it is only good for 24-volt systems, we had to make it a bonus item. This trolling motor wire extension kit is completely spliced and ready to use for a two battery, two bank charger, 24-volt system.
Each battery has a 6-gauge wire connection with a female snap-in connector. The male end of the snap-in connector has 8-gauge wires going to the trolling motor and battery bridge wire. Additionally, each connector has 10-gauge charger connection wires. All the wires are pre-rigged with butt-end terminal connectors so you can complete the connection.
Another feature we like about this kit is the 5-foot bridge wire making it easy to separate your batteries for even weight distribution in a small boat. If you plan on running four batteries in a two bank 24-volt system, you can buy two of these kits and connect them at the battery switch to double your total amp-hours.
Don't forget you will need breakers or fuses for this extension kit. We recommend Terminal Mount Fuse Blocks and block fuses, so you will not need to add or modify this kit.
All components provide great resistance against corrosion, which makes it a perfect companion for fishing pros. Connect-Ease also offers a 1-year warranty with this product.
Final note: if you use a 3 bank onboard battery charger, this kit will work perfectly. Connect two leads from your 3 bank onboard charger to the kit and the other lead to your main battery. The result will be maintaining your entire boat battery system and still giving you the ability for easy trolling motor battery removal.
Click here to see this item on Amazon.com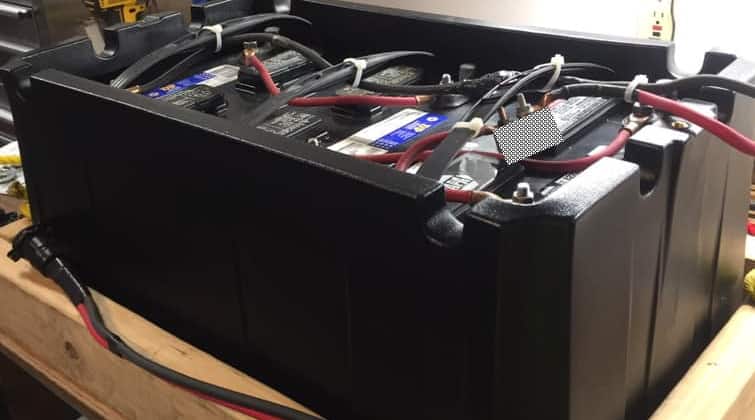 DIY Trolling motor wire extension
With a basic understanding of DC wiring, it is easy to wire your harness. We are going to list out some recommended parts but please refer to your owner's manual and never undersize your wires or oversize your breakers (or fuses). Also, check out the Connect-Ease kit because they have great directions and diagrams.
Recommended trolling motor wiring parts
Click here to read our article How to Wire a Battery for a Trolling Motor?
Conclusion:
The extension kits above are designed to work with all trolling motors, and all the trolling motor wire extension kits we have included in our list are top class. They will allow you to adjust the battery anywhere in your boat, giving you better weight distribution.
The Final product you choose should keep into consideration the size of your boat and your motor requirements. We recommend that you check your motor owner's manual for wire length and gauge size compatibility with your specific motor – as there is no one size fits all approach to electrical.
Until next time…  
Frequently Asked Questions
How do I extend the cable on my trolling motor?
If you find that your boat has become unstable due to the installation of your trolling motor, then you should consider extending the cable.
Instability will often occur in your boat if you have to mount your trolling motor in an unstable position due to the length of the cable. So, extending the cable will give you more freedom as to where to install your motor. 
There are lots of different ways that you can extend the cable on your trolling motor, but the best way is to buy a cable extension kit. You can manually extend the cables yourself, but a cable extension kit is much safer and easier to use.
If you have any experience with extending cables, you can then use this kit to do the job yourself. But, if you lack experience, you can call a professional to do the job for you instead. 
What gauge wire is needed for a trolling motor?
Depending on the type of trolling motor that you have, a different gauge of wire might be recommended by the manufacturer.
However, generally speaking, most manufacturers tend to recommend the same gauge of wire as one another. Usually, this will either be a 6 gauge or 8 gauge wire. 
Most manufacturers will recommend an 8 gauge wire for the majority of 24-volt trolling motor systems. However, if the system is 20 feet or longer, you might instead be recommended to use a 6 gauge wire.
Personally, we would recommend using either a 6 gauge or a 4 gauge wire for anything over 15 feet due to factors such as current, heat, and voltage drop. But, it is always best to check with the manufacturer of your trolling motor before you choose any gauge of wire for the job.