Are you trying to put together a budget-friendly fishing boat? Getting a bow mount trolling motor should be one of the top items on your list.
A bow mount trolling motor will give you the best fishing experience, whether trolling for lake trout or troughing crankbaits for bass. We are not saying a cheap bow mount motor is the best idea, but we want you to know that there are solid options not to be overlooked if you are a casual user.
Note: most links in this article are Amazon.com Affiliate links, see Affiliate Disclosure, thank you.
If your time is short, here is our top cheap bow mount electric trolling motor. For a standard small fishing boat, we recommend the AQUOS Haswing Black 12V 55LBS 54inch Electric Bow Mount Trolling Motor. For bass boats, we like the Minn Kota Edge Freshwater 45 lbs Thrust (the 45-inch model). For a detailed breakdown, all the information is in the article below.
What is a Bow Mount Electric Trolling Motor?
A motor that mounts to the front of your fishing boat is a bow mount motor. Typically, these motors are electric motors mounted directly to your boat's front deck. For convenience, many people add a quick-release mounting bracket and trolling motor battery plug for easy removal.
The most significant advantage of a bow mount trolling motor is that it pulls the boat rather than pushing it. Pulling the boat gives you more maneuverability and quicker response in low-power situations. Another advantage is that a bow mount trolling motor can pull the boat in a straight line to help combat wind and current.
How Do You Control Bow Mount Electric Trolling Motor?
There are three main ways a bow mount trolling motor can be operated hand controller, foot pedal controller, and handheld remote. Each method of control has its advantages and disadvantages.
Hand controllers are the most basic of the control methods. A lever or control stick is mounted inside the head of the trolling motor and sticks out horizontally. Typically, the controller can be turned clockwise or counterclockwise to control the speed and thrust of the motor. Many people That use this type of motor add a Trolling Motor Extension Handle to avoid being in the very front of their boats
Foot pedal controllers are popular with bass fishermen because of their ability to be used hands-free. The motor can be steered by pushing the pedal forward or back. Additional controls include a speed know and on/off switch. Of course, precise controls vary from model to model but will be very similar in this price range. Finally, it is common for fishermen to install a recessed tray for their foot pedal to help them balance while operating their motor.
Handheld remotes are the most popular with trolling fishermen. This is because you can point your motor in any direction, set your motor's speed, and make small adjustments from the stern of your boat while maintaining your fishing poles. Many remotes have advanced features like autopilot and spot-lock, but those features are typically on higher-end motors.
Of course, everyone has their favorites, but my favorite is the handheld remote without question. For me, the ability to be in the back of the boat working my poles while trolling makes outweighs everything else. Many bass fishermen have started to use remotes on lanyards to make quick adjustments.
How Do You Attach a Bow Mount Electric Trolling Motor?
Most bow mount motors attach through the boat's front deck with six locking bolts. Some fishermen install a quick-release bracket that typically is a two-piece assembly, with one piece bolted to the boat and the other to the trolling motor.
Some manufacturers include a drilling template that you position on the front deck of your boat. The template is clearly marked with locations for you to drill holes in the deck. You should move the template around to find the best spot to avoid deck reinforcements below and account for how the motor will sit when stowed.
After the holes are drilled, have a friend hold the motor in place while you insert the bolts through the motor mount and the boat deck. Start by threading all the nuts on each bolt, and don't forget the lock washer, or better yet, Nylock nuts. If not included with the motor, use stainless steel and large fender washers.
Many motors include rubber mounting washers that go between the motor and the boat deck. These washers help absorb shock, isolate vibration, and have minimal ecteronic protection. We found an aftermarket kit that you might use as a guide when heading to the hardware store on this website.
Of course, consult your directions for details on your specific motor, but in our experience, they are all similar.
How Do You Connect a Battery to a Bow Mount Electric Trolling Motor?
Get a 12-volt deep cycle battery and a terminal block fuse. Place the trolling motor battery in the boat close enough for the trolling motor wires to reach, then secure the battery. Attach the terminal block fuse to the battery positive terminal, then connect the positive trolling motor wire(red) to the fuse block.
Finally, connect the negative wire to the battery to complete the power circuit to the motor. It is best practice to ground your trolling motor battery to your boat, but it will still operate without a ground wire. This is a basic installation instruction, and realistically most users will do a more detailed installation. Below we have included a schematic of a full-featured 12-volt installation.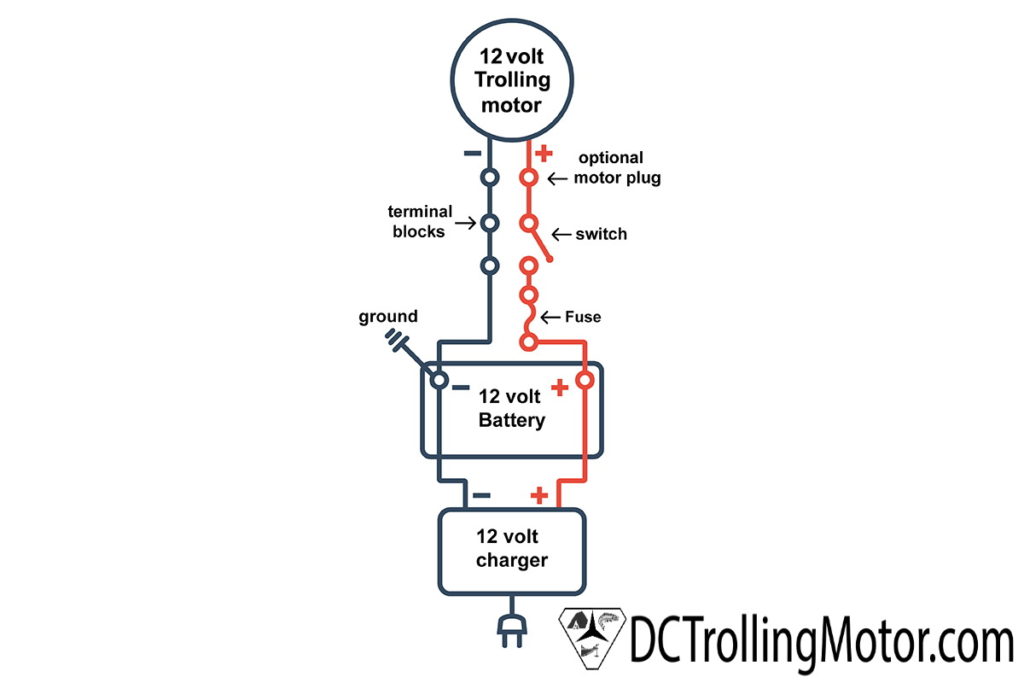 Cheap bow mount trolling motors are typically 12 volts and 55lb thrust or under. Depending on the motor, the maximum amp draw for these motors should be 50 amps or less. When doing a more detailed installation, the maximum amp draw of the motor will determine some of the parts we will need.
The terminal fuse or breaker is the first concern. For a 50 amp draw, you need a 55 to 60 amp fuse. A motor in this size class will only be an option for small boats, so you should not need a long wire. The length of a wire and the maximum amps will determine the gauge(AWG) required. Most installs will use a maximum of ten feet of 6awg wire. If you go longer, you will need 4awg wire. 
(table AWG for 10ft and 15ft wire)
It is a "best practice" to make wire sections with ring terminals, dielectric grease, and heat shrink. Make sure you use the correct size ring terminals to account for wire diameter and bolt ring size.
If you are wiring a 24 volt trolling motor check out this article for helpful information.
How Do I Add Multiple Batteries to a Bow Mount Electric Trolling Motor?
The answer to this question depends on the voltage of your trolling motor. For this article, we are going to talk about 12 volt trolling motors because cheap trolling motors are typically 12 volt.
The first rule for trolling motor batteries is always to use matching batteries of similar size and age. There are many reasons to match but the short answer is your system will only perform as well as the weakest battery.
For a 12 volt system, you will be connecting your standard 12 volt deep cycle batteries in parallel. This means that you will connect each battery from positive to positive and negative to negative. Before you connect the batteries make sure they are both equally and fully charged.
Next, make sure your motor is in the off position and connect your positive cable to your A battery, then connect your negative cable to your B battery. Connecting each cable to a different battery is called a load balancing configuration, which distributes the electrical load evenly.
Refer to the image below to get a better idea of this connection, also use the above image to assemble the whole wiring system.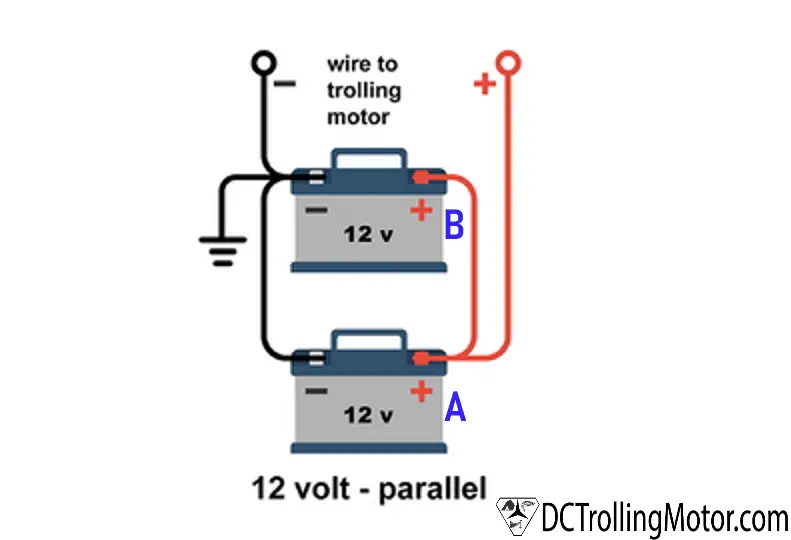 ---
Haswing is a Chinese company that has come to the global market with various products, including e-bikes, electric trolling motors, and inflatable boat packages. The selection of electric motors is large, including both transom and bow motors with or without GPS.
PROS
55lbs thrust
Aluminum alloy shaft
Dual pedal stow/deploy lever
Lifting handle
Saltwater rated
2-year warranty
CONS
Foot pedal not included in the basic package
Quick-release mount not included in the basic package
No Gps
No spot lock
The Aquos Haswing Cayman B is a powerful 12 volt 55-pound motor. The build quality is solid and very durable, giving it a long life potential when well maintained.
As for customer comments, most seem positive. The top comments are confusion about what is included in the different packages. It is nice to see that the manufacturer answers questions promptly. We like this motor for a 16-foot boat, but the manufacturer says it would be good on an 18-foot boat.
We recommend buying the complete package, including the foot pedal and quick release bracket. Check out the price difference by clicking here.
Check out the price on Amazon.com
---
Watersnake motors is an Australian-based company that makes a variety of different motor configurations. The motors are known for being budget-friendly and lightweight. Watersnake has a few of the lightest kayak motors on the market.
PROS
54lbs thrust
Circuit breaker included
Lifting handle
Included foot control
CONS
Freshwater rated however they do make saltwater motors
Quick-release mount not included in the basic package
No remote
No Gps
No spot lock
While this motor is budget-friendly, it still performs well. The lightweight of 41 pounds makes this motor great for small, lightweight boats. We recommend this motor for 14 to 16 foot long boats, but the manufacturer says it is rated for up to 17-foot boats.
However, this motor is light-duty, so if you are a hard-core fisherman or not great on maintenance, like me, this motor might not be for you. Causal users reported that this motor was great and met all their needs. For heavy users or wreckless users, this motor wasn't tough enough. Parts were hard to get, and required to be ordered from the parent company's website.
If you are a light user who takes good care of your equipment, this motor is still an excellent option. It is hard to get such a powerful, lightweight motor for this price. Add a budget lithium battery charger combo, and you will be thrilled with the overall weight of the package.
Check out the price on Amazon.com
---
Brunswick corporation is quietly one of the largest boating suppliers in the world. This is because they own so many companies, including but not limited to Mercury Marine, Lowrance, Marinco, Blue Sea Systems, and Motorguide. The Motorguide division manufactures a large variety of motors in all budget ranges. A few advantages of this is an ample supply of motors, accessories, and parts.
PROS
Cable steer system
Includes foot control
Folding deploy/stow system
Time tested, durable design
CONS
36-inch shaft length
Quick-release mount is not an option
No Gps
No spot lock
This model motor is what we call a traditional bass boat motor. Looking at this motor is like looking back in time at the design with modern materials and construction. There are no-frills with this motor, but that just means less to go wrong.   
All the controls are located on the foot pedal at your toe tips. The deploy/stow system is a folding hinge style bracket that lays down firmly when stowed. The motor that we are looking at is a 45lbs thrust motor, but they have larger motors for larger boats.
Users rate this a good motor overall, and it is a fair value at the current price. Most users claim the performs as expected—however, some complaints were centered around the lack of options in higher-priced motors. Of course, there were some legitimate complaints about manufacturing errors and defects, but it seems as if the manufacturer dealt with most issues.
We would only recommend this motor to people with low profiles bass boats that fish from the bow of their boat. The reasons are the short 36-inch length motor shaft and the short cable steer foot control. Neither of these is a deal-breaker for this motor if you are in a bass boat.
Also, Motorguide has a hand lever control. The small bracket bow mount motor is suited for small pontoon boats, jon boats, or any boat with a small flat front deck. Check this motor out on Amazon.com by clicking here.
Check out the price on Amazon.com
---
When it comes to trolling motors Minnkota is the big boy in the industry. Johnson Outdoors is the parent company of Minnkota and many other outdoor companies like oldtown canoe, which led to their motorized kayaks.
There is much confusion about where the products are made. Minnkota clearly states that their motors are made in the USA. However, many items have very limited sources, such as electronics like fish finders and battery chargers.
PROS
Cable steer system
Directional indicator
Includes foot control
Folding deploy/stow system
Time tested, durable design
CONS
36-inch shaft length, 45-inch available
Quick-release mount is not an option
Basic propellor
No Gps
No spot lock
The thrust size of this motor makes it an excellent option for 16-foot boats, even more so for boats with a flat front deck, like a bass boat. A higher side boat can also use this motor, but I would consider the 45-inch motor shaft to prevent your motor from coming out of the water. A nice touch is the directional indicator to clearly see what direction the motor is pointed before going from speed zero to five.
Most users are pleased with this motor and their overall experience. The largest complaints seem to be people who buy a budget motor expecting to get all the frills of a high-end motor. MinnKota makes amazing motors with every feature you could possibly want, but you will have to pay a lot more. Some of those motors are the Ultrex, Ulterra, or my favorite, the Terrova.
As for general customer service and warranty service, Minnkota is hard to beat. Stories of excellent customer service are constantly shared on Facebook pages and forums across the internet. I personally have two excellent customer service experiences so I can speak directly about this.
Check out the price on Amazon.com
The Minnkota Edge also comes in a hand steer and speed control model. Consider this motor similar to a standard transom mount in how it can be controlled. The shaft length is 45 inches, so it might be a good option for medium-sized boats. If you have room to stow your motor, this can be a great motor for a small pontoon boat or party barge. Check this motor out on Amazon.com by clicking here.
---
Super Low Budget Option
The MinnKota Endura is a great motor that is time-tested and budget-friendly. While the Endura is a transom mount motor it is not hard to add a Deck Mount Trolling Motor Bracket to any boat's bow.
Simply remove the trolling motor head and carefully reposition it 180degrees around. Then attach your trolling motor to the bracket and you will be fishing. Of course, a trolling motor in this class has a shorter shaft but this is where a custom bracket could work out well.
We have a full written review and a test video that you can check out.
Conclusion
There are many more options than what we have presented today, but these are great motors for people on a budget. Minnkota is always one of our favorites because of the company's support, but your boat and fishing style can influence your decision.
If the Minnkota Edge will work on your boat, is it our top pick, but it might be a short time option. After you have used a cheap electric trolling motor for a few years, you might want to spend the money on a top-of-the-line motor. That is how I became a lifetime electric trolling motor addict, lol.