Are you planning a whole lot of fishing trips and need a great trolling motor? Maybe you're just tired of having a lackluster trolling motor. Whatever the case may be, these trolling motors are invaluable for any angler, and it's what we are here for today — we want to take a look at a new entry from Garmin into the trolling motor market.
Note: most links in this article are Amazon.com Affiliate links, see Affiliate Disclosure, thank you.
Garmin Force Trolling Motor: Review
The Garmin Force Trolling Motor is big, powerful, technologically advanced, and even fairly quiet too. It's a serious motor for a serious fisherman.
Click here to see the Garmin Force Trolling Motor on Amazon.com.
Update 2/9/2020
I have attended a trade show this weekend and the Garmin rep told me they had tested the Force motor is saltwater. Per the information, he gave me, with proper maintenance the warranty would now cover their motor for saltwater use. I had to look it up so I could update you and here is what I found.
In product information I found this line, "6.3.4 The warranty policy does not cover damage resulting from or caused by inadequate cleaning or improper service of products used in saltwater or brackish water", which I had not seen before. (click the link here)
In the owner's manual I found this Notice in Maintenance Needs and Schedule, " After using the motor in saltwater or brackish water, you must rinse off the entire motor with fresh water, and apply a waterbased silicone spray using a soft cloth." (click the link here)
Additionally, the rep said that you would need to inspect the zinc anode on the propeller shaft to maintain the warranty. From what the rep said and the new information in the Garmin Force documents I feel this motor is now safe to use in salt or brackish water.
Who is This Product For?
The Garmin Force Trolling Motor is designed for a serious bass fisherman. The fact of the matter is that Garmin Force is one of the most powerful, quiet, and efficient trolling motors out there.
So, if you are planning to spend days and weeks fishing, especially in lakes, rivers, and streams with strong currents and winds, the Garmin Force Trolling Motor is probably for you.
Keep in mind that this motor is pretty big and it's definitely got quite the price tag on it. It's a trolling motor for the serious and dedicated angler.
What's Included?
When you purchase the Garmin Force Trolling Motor, there is actually quite a whole lot included, and we think that you will appreciate it. Of course, the motor itself is included, and yes, it comes with everything a motor needs to have — remote, propeller, and all mounting hardware. However, there is a lot more to it than that.
For instance, it comes with dual gas springs for easy deployment and stowing, and it includes a wireless foot pedal for easy control.
Also, you can order a bundle package to include an NMEA 2000 compatible Garmin multi-tier sonar system and display so you can find fish with ease. Most of these units are loaded with features including, GPS, autopilot, chart plotting, cruise control, anchor hold, and other features we will be talking about.
The Garmin Force Trolling Motor does come with a user manual, and we would recommend reading it before taking it out on the water.
Overview of Features
Powerful, Quiet, and Efficient
If you need a super-powerful trolling motor to get you through tough currents and to fight against strong winds, the Garmin Force Trolling Motor is definitely a good option. When it comes to features, at the end of the day, this thing has way more power than most trolling motors out there at this time. Keep in mind that this is a 57-inch trolling motor, so it's quite large, more than ideal for even really large fishing boats that sit high in the water requiring a longer motor shaft, especially when there are strong winds and waves to deal with.
What is impressive is that the Garmin Force Trolling Motor can run at either 24 or 36 V. The really impressive part is that when this motor is only running at 24 V it delivers comparable thrust to other 24 V motors. When running at 36 V the trust jumps right up to match other 36 V motors without any loss of thrust due to this unique ability. The dual voltage feature makes this motor a great choice for a motor upgrade without rewiring your entire boat.
It is more than powerful enough to deal with really strong currents and harsh winds, so you can get where you need to go quickly and efficiently. And on that same note, this particular trolling motor is actually quite efficient, both in terms of speed and fuel use as well.
Yet another big bonus that you get with the Garmin Force Trolling Motor is that it is very quiet. We all know that loud engines are going to disturb wildlife, but when it comes to a trolling motor of this size and power, it's actually very quiet, something that all anglers will absolutely appreciate. Besides being very powerful, super-efficient, and fairly quiet, the Garmin Force Trolling Motor does have quite a few other features that are worth mentioning.
Click here for our more detailed overview of the Garmin Force Trolling Motor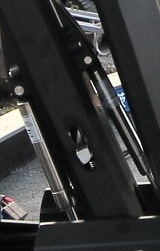 Durability
In terms of durability, the Garmin Force Trolling Motor is one of the tougher options out there today. It's designed with long-lasting parts that should stay in one piece for the better part of a decade. It's also a good option because it comes with dual gas springs so that it can be deployed and stowed with relative ease.
Foot Pedal
For one, the Garmin Force Trolling Motor can be steered handheld remote, but, it also comes with a foot pedal for steeling. This foot pedal is wireless, which is nice because there are no long cables that will get in your way and potentially create a hazard, plus it means that you can keep the foot pedal anywhere on the boat, and steer it from wherever you choose.
Now, it does operate using AA batteries, at least for the wireless mount option, but it does come with the option to be hardwired, in which case it does not require any batteries. If you do choose to go with the battery-powered option, it has a battery life of 1 full fishing season, which is quite impressive. It also has adjustable pedal resistance, so you can adjust it to react as you see fit.
Moreover, the Garmin Force Trolling Motor's pedal also has a great waterproof rating, so even if it gets wet, it's not going to break.
Check out our article What are the basic parts of a bow mount trolling motor?
GPS, Autopilot, and Sonar
What is really neat about the Garmin Force Trolling Motor is that it is very technologically advanced in terms of, well, everything really. The Garmin remote has a high-quality display that has great resolution and is treated to be glare-resistant as well, so you can see everything in great detail and with great clarity, even when the sun is shining directly on the display.
Perhaps the neatest part about the Garmin Force Trolling Motor is that when connected to a compatible chart plotter it has highly advanced and multi-functional GPS. This GPS comes with precise mapping and chart plotting features.
The super cool part about the Garmin Force Trolling Motor's GPS is that it comes with an autopilot mode — you can plot a course, enter it into the computer, and the Garmin Force Trolling Motor can take you there without you having to do anything at all. You can literally fish to your heart's content while this thing drives for you.
The Garmin Force Trolling Motor also features a built-in automatic anchor lock, which is yet another bonus. This motor also features cruise control, so you can maintain a specific speed without having to actually give it any gas, so to speak, plus it has a heading-hold feature too.
Moving on, the Garmin Force Trolling Motor also compatible with a CHIRP traditional and Ultra High-Definition ClearVü, SideVü and Panoptix sonars with imperceptible sonar noise interference — it's definitely a mouthful, but there is a lot of sonar and fish finder equipment available. The point here is that Garmin manufactures top of the line equipment and that the Force trolling motor was built to integrate seamlessly with all sorts of nifty sonar tools which can help you locate fish with ease.
Garmin remote
Finally, the Garmin Force Trolling Motor comes complete with a remote control so that you can control the GPS, chart plotter, autopilot, and everything in between from a distance.
The Garmin remotes have one little trick that we have not seen before called point-and-go gesture steering. Point-and-go steering allows you to point your remote in any direction and press the direction key to set your boat's new heading.
Yes, the remote control is waterproof, and it floats, so in case it goes for a swim, it will still be in one piece when you fish it back out, pun totally intended.
Tutorial
Now, we do know that we just listed a lot of features for the Garmin Force Trolling Motor, but when it comes down to it, this trolling motor is actually very easy to use. All you need to do is mount it to your boat, put the motor down into the water, and then use the wireless or wired foot pedal to control it.
The GPS system, as well as the auto-pilot and sonar features,  are quite advanced, and although they might take getting used to, they are really no different than any other fishfinder and GPS units out there. To sum it up, for basic operation no tutorial is necessary but for advanced features, the owner's manual is very explanatory.
Pros
Superior power
Great efficiency
Quiet design
Extremely durable
Advanced sonar functions
GPS with autopilot, chart plotting, anchor hold, and more
Cons
Cannot be used in saltwater (updated 2/9/2020, read above)
Not particularly budget-friendly
Built-in transducers only work with Garmin electronics
Alternatives
One thing that stands out about the Garmin Force Trolling Motor as not being exactly ideal is the fact that you cannot use it in saltwater, plus of course, it is quite expensive. However, there are other options out there that you can look at.
 One of these alternatives is the Motorguide xi5 Trolling Motor. This particular option is available in various power and size options, plus it has sonar too. Adaptor cables and NEMMA 2000 converters can be connected to most brands of electronics, consult the user's manual. The advantage of the Motorguide option is clearly a lower price, but you will give up some available accessories.
The Minn Kota Ulterra 80 is a top of the line motor from the industry leader in electric trolling motors. This motor features auto-deploy, and you can purchase just about every accessory under the sun for Minn Kota products.
Click here for our article about Tips on installing an electric trolling motor?
Conclusion
At the end of the day, the Garmin Force Trolling Motor is one of the very best options when it comes to heavy-duty trolling motors with a ton of technology to back up its power. Additionally, this motor is only available in a freshwater version, so it might become one of the top options for bass fishing. If you are serious about fishing and you need something strong, this should be a prime option.
Click here to see the Garmin Force Trolling Motor on Amazon.com.
Editors note:
Garmin is an award-winning company that you can count on for great products and customer support. I personally use a Garmin SideVü unit plus Panoptix sonar on my boat.
Next year I plan on revisiting the long-term performance of this motor for my next purchase. Update: this motor has proven itself to be a top choice in durability and saltwater capable.
Frequently Asked Questions
Does Garmin Force have Panoptix?
Yes, the Garmin Force features Panoptix! The trolling motor features a full range of Panoptix and their LiveScope sonars. You get all the cable management that supports the full Panoptix and their LiveScope range.
You can purchase the Panoptix range as accessories with the Force trolling motor or purchase them separately. 
As the cable management is compatible with the whole range, you can also use your own Panoptix if you already own some!
However, you will need to take care, as they can get caught in weeds, with customers noting that the cables and how you deploy them aren't always the best. 
Be sure to familiarise yourself with how they work before testing them out in the water. The last thing you want to do is lose them rather than get the most from your scopes!
Does the Garmin Force trolling motor self-deploy?
No, the Garmin Force trolling motor does not self-deploy. There is only one trolling motor on the market that self-deploys; Minn Kota's Ulterra. While the Garmin motor does not self-deploy, future models might feature this as their demand continues to grow. 
While the motor does not self-deploy, it is extremely easy to deploy, so you don't need to worry about that! You can deploy and retract the motor with ease, meaning you never need to stress while you are out on the water.
The instruction manual walks you through deploying the motor, and we recommend reading this beforehand, especially if you are new to the trolling motor world!
We anticipate that as demand and a desire for self-deploying trolling motors continue to grow, more will enter the market. Who knows, someday soon, you could enjoy a Garmin trolling motor that self-deploys!
Can you use the Garmin force in saltwater?
Yes, you can use the Garmin Force trolling motor in saltwater! The trolling motor is suitable for use in fresh and saltwater, so you don't need to switch between the two! If you use your boat in both types of water, you can simply use the Garmin Force motor to enjoy fishing in them. 
You can also use the trolling motor in brackish water too if you want. You don't need to worry when using the motor either; the wireless connection allows you to create routes and follow tracks with ease. 
In the user manual, it clearly states that you will void the warranty if you don't properly maintain your motor.
Here is the quote, "After using the motor in saltwater or brackish water, you must rinse off the entire motor with fresh water, and apply a water-based silicone spray using a soft cloth." See the link in the article update above.
Does the Garmin force trolling motor have a spot lock? 
While there is no lock labeled as a spot lock on the Garmin Force trolling motor, you don't need to worry about missing out! You can use the anchor lock feature on the motor to hold the boat in your location, leaving you to sit back, fish, and relax!
The anchor lock performs just as your spot lock would. The two terms are practically interchangeable here. You can use the anchor lock button on the remote to ensure that your boat stays where you want it! It's incredibly easy to use, so beginners don't need to panic. 
The feature works brilliantly, too, and is fairly accurate when compared to other spot locks on the market. You can enjoy fishing and lock your boat to the location you want, all with the press of a button!