Fishing has always been a game of stealth. This is why electric trolling motors are a godsend to anglers.
Electric trolling motors not only enable anglers to have complete control over their boats but also help them move from one spot to another effortlessly and stealthy.
For this task, we have 9 reasons we prefer 24 volt trolling motors. In this article, we are going to list these reasons with one goal in mind. Make sure you are in the best position for your next catch (while also being quiet), ultimately ensuring an excellent day angling, more fish on board, and an overall good catch. 
Note: most links in this article are Amazon.com Affiliate links, see Affiliate Disclosure, thank you.
Understanding Trolling Motor Power
Electric trolling motors utilize battery power to move a boat. The battery power is converted to pounds of thrust in the electric motor. All motors in the market have a power rating like this.
There is a direct correlation between the voltage and pounds of thrust, lower voltage motors have low maximum pounds of thrust.
Determining the Amount of Thrust Required
There are many aspects to think through before determining the amount of thrust required by your craft for maximum performance.
Some critical questions you may ask yourself include:
Is your craft heavy?
What is its length?
Do you fish with a lot of people or store gear on the boat?
Will you catch in harsh conditions such as rough water and high winds?
You must select a motor that goes well with your watercraft. Answering these questions will ensure your motor can propel your boat through the worst of conditions: high waves, thick weeds, and strong winds.
Once you have considered all these factors, you will be able to decide whether a 12, 24, or 36-volt system would be suitable for your boat. We find the 24-volt system works the best for most boats, and these are our reasons why.
Click here for our article What size trolling motor do I need for my boat?
Advantages of 24-Volt Trolling Motors
1 – Total thrust
Most 24 volts systems provide 70 to 80 pounds of thrust. It is not only perfect for fishing in adverse conditions but also for an extended period. A 24-volt system will draw fewer amps than a 12-volt system, dramatically improving run-time while also providing more power and increased thrust.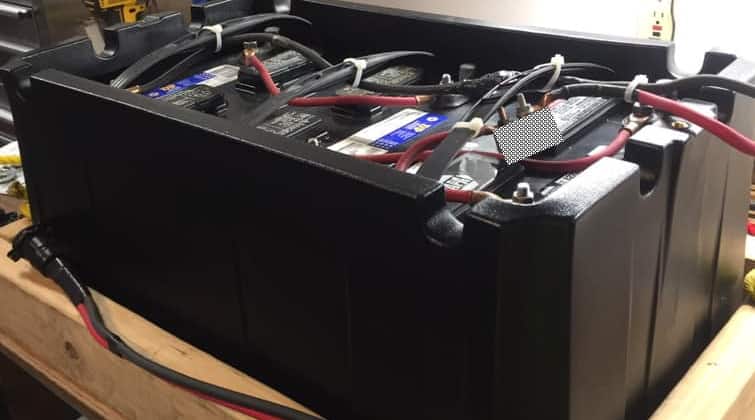 2 – 24-volt battery banks are easy to build
A 24-volt battery bank can be made easily with two matching lead-acid 12-volt batteries wired in series. It is prevalent to build battery banks of all voltages in this manner. You can buy 24-volt batteries, but they are rare and require special handling.
Also, some 12-volt lithium batteries can be connected in series, always check before purchase. It is possible to buy 24-volt lithium batteries, but you can run into the same set of problems with mounting and special charging requirements.
Click here for our article Lithium Trolling Motor Batteries Review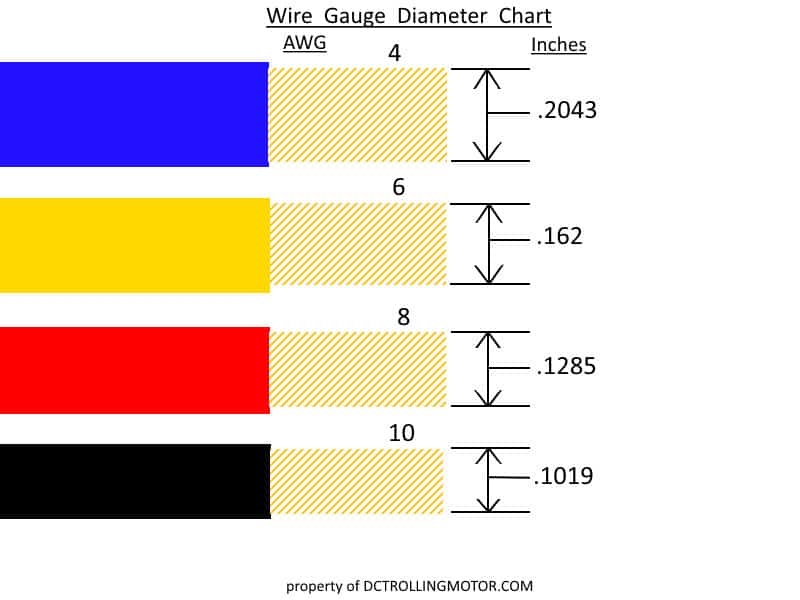 3 – 24-volt wire gauge
A 24-volt system generally requires slightly over half the wire gauge thickness of a 12-volt system. Using a small gauge wire can be a significant cost-saving, especially in a long boat where your batteries are located at the opposite end from the motor.
Now a 36-volt electric trolling motor maximum amp draw is close to the 24-volt motor. However, 36-volt motors do generate more thrust, but we will address that later in the article.
We suggest you always refer to your manual, ABYC chart, or a circuit wizard (like Blue Sea). The benefit of this is that small wires cost less.
Click here for our article Best gauge wire for a 24-volt trolling motor?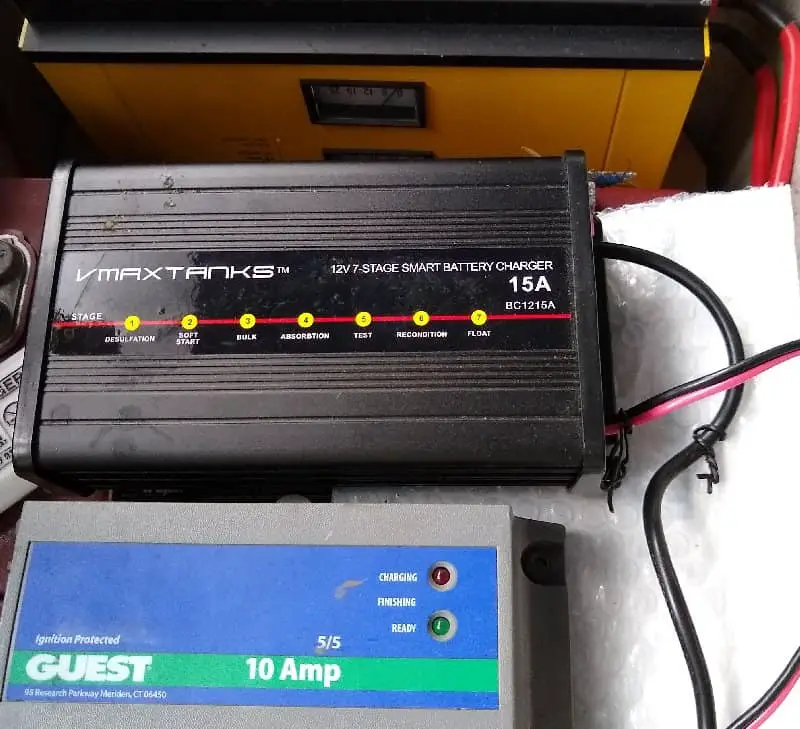 4 – Battery charger
Battery chargers are easy to source for a 24-volt system when using multiple 12-volt batteries. Our favorite is three bank battery – multi-type battery charger.
    Click here for our article Review of the top 3 bank marine battery charger
5 – Weight to pounds of thrust
A 24-volt motor provides 80 pounds of thrust, whereas a 36-volt motor offers 115 pounds of thrust. So essentially, you get only 25 lbs more for an additional battery. This equates to 1/3 more battery weight for only 1/4 more propulsion. If your AGM battery weighs 70 pounds, it is not a good trade-off.
6 – The efficiency of 24-volt vs. 12-volt
If we compare apples to apples, a 24-volt motor set to 50 pounds of thrust will use half the amps of a 12-volt motor set to 50 pounds of thrust. This means the system (battery, wires, and motor) will function at a lower temperature and will have a decreased resistance.
Therefore, a 24-volt system will have better efficiency because of less resistance compared to a 12-volt motor.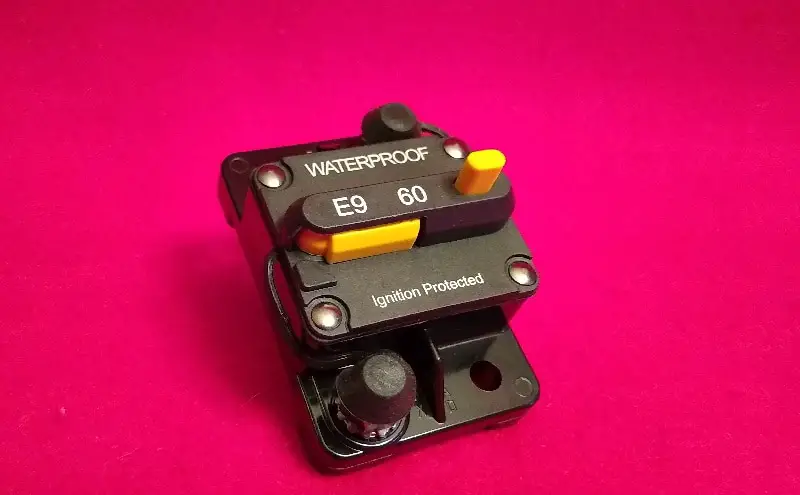 7 – Available accessories
Just about everything under the sun is available for a 24-volt system. These accessories include batteries, chargers, transformers, lights, alternators, inverters, solar panels, wind turbines, and more.
However, that is not the case with 36-volt accessories. Moreover, many items like breakers and fuses are rated for both 12-volt and 24-volt applications.
8 – Cost
We don't usually worry as much about the cost as we should, but it is also a factor that must be included in this equation. The cost of a 24-volt system is not bad for the increase in pounds of thrust, plus the additional battery.
We will use Motorguide Xi5 as an example because it comes in all voltages similarly equipped
12-volt  55 lbs    $1300
24-volt 80 lbs     $1800
36-volt 105 lbs   $2000
You can see from the chart that it is only a $500 jump from the 12-volt to the 24-volt with a 25 lb increase in thrust. You would still need two batteries for a day on the water with the 12-volt motor, but your wire and other items should cost you less for a 24-volt motor. Xi5 36-volt motors are very well priced compared to other motors, but you would need to add a battery and a more expensive charger.
Click here for our Review of Motorguide Xi5 Trolling Motor.
9 – Gas Motor
Most people are going to need a gas kicker (trolling motor), so I disregard the need for the disproportionate amount of extra thrust provided by a 36-volt motor because you already have the 9.9hp gas motor for all the extra thrust you may need.
I run a 24-volt trolling motor on my boat, and I rarely use my gas kicker. I have two additional high amp hour batteries for a total of four. These batteries are different from my hardwired batteries, so they cannot be used together.
I start with the hardwired batteries, using the first 20% of their charge, then switch to the high amp hour batteries. If the high amp hour batteries get to 50%, I switch back to the hardwired batteries that have been recharged from the main motor.
Click here to read our review of Trolling Motor Batteries
Conclusion
For the 9 reasons listed above, a 24-volt trolling motor is a solid choice for your boat. Another thing to remember is that your trolling motor should be powerful enough to propel your boat.
There is probably nothing worse than attempting to fish from a watercraft that has an underpowered engine. Therefore a 24-volt trolling motor is the best bet for any fishing craft.
However, if you are still not sure, check out the Garmin Force trolling motor. This motor is top-of-the-line and offers dual voltage (24 or 36) so you can upgrade the voltage at a later time without buying a new trolling motor.
Click here for our Garmin Force Trolling Motor Review, updated Feb 2020.
Click here for our Garmin Force Trolling Motor Overview, hands-on testing information.